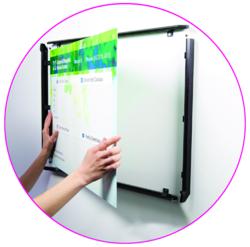 Beautiful, changeable dry erase capability with a lifetime warranty helps improve the patient experience while meeting the practical needs of the hospital.
Lebanon, OH (PRWEB) June 04, 2013
Versions by VividBoard combines a snap frame with the patented VividShieldTM coating on an aluminum insert which allows graphics and content to be switched out easily. This functionality can be helpful to hospitals with diverse patient populations since the same design can be created in different languages.
The product can be a good way to keep patient room boards interesting and up to date - the design can be changed with the changing seasons or changing color schemes in the hospital. It can also aid in rebranding efforts. An insert with the new logo can be put up without having to take the frame down from the wall.
VividBoard's VividGraphicsTM high-impact imaging process provides the sharpest images on the market. When combined with the patented VividShieldTM coating, the hospital gets a visually appealing board that is easy to use, easy to clean, and guaranteed for life. The vibrant images and easy-to-own nature of the product help make the patient room board more functional for the patients as well as the staff. By utilizing this new product, hospitals can improve the patient experience and their patient satisfaction scores.