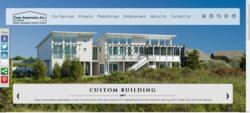 We have been so thrilled with all that Cape Associates has done for us-we have no suggestions! Thanks again for all of your hard work.
Eastham, Chatham,Yarmouthport, MA (PRWEB) June 10, 2013
Cape Associates, Inc. has remodeled.
Cape Associates, Inc. is excited to announce the launch of our newly designed website, located at the same address: http://www.capeassociates.com
The site's homepage welcomes visitors with beautiful images of our projects, a clean, sleek design, and user-friendly navigation. The bold images feature content focused on our comprehensive services in the fields of custom building, renovations and maintenance, property management and painting.
The new site is divided into six sections: OUR SERVICES, PROJECTS, PHILANTHROPY, EMPLOYMENT, ABOUT US, CONTACT US. Our current and prospective customers will find detailed information about the services we offer in the SERVICES section. The PROJECT galleries show the scope of our projects and the PHILANTHROPY section highlights Cape Associates' commitment to supporting the communities of the Cape & Islands. We encourage our current and prospective customers to contact us through the website and sign up for our newsletter. For those seeking employment with a company who is committed to quality and integrity, please go to our EMPLOYMENT section to view available positions and apply online.
The website also features new types of rich content, ability to easily use on any device and sharing capability to popular sites such as Twitter, Pinterest, Houzz and YouTube. The website will be updated on a regular basis, with news of events, project progress and news content.
If you experience any problems using the new website or if you have any suggestions, please contact us at info(at)capeassociates(dot)com.