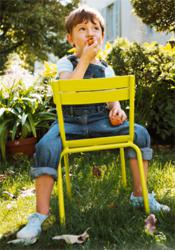 Santa Barbara, CA (PRWEB) June 04, 2013
Our new French bistro furniture is manufactured near the city of Lyon, France. This company is committed to "green" production and runs a zero-waste facility recycling and using recycled materials. Their iconic outdoor furniture line includes the original design for the "Simplex" or, as we know it "Bistro" chair designed by Edouard Lecler in 1889. Developed at the end of the 19th century in France, folding tables and chairs were a godsend for the bistro terraces that were flourishing everywhere. This new furniture, quick and easy to fold and store away, proved particularly popular with lemonade sellers as it enabled them to avoid paying the tax for a fixed terrace. The modern colors available include "Poppy Red", "Paprika", "Lemon Verbena", "Chili Pepper", "Fjord Blue" and "Eggplant" to name of few of the bright, exciting hues. Eye of the Day is pleased to include the world's most popular line of French outdoor furniture including bistro chairs and bistro tables.
This brightly colored outdoor furniture will be included in our month-long pop-up store featuring Italian terra cotta pottery, French Anduze containers, California's Gladding McBean garden pottery, and hand thrown Greek terra cotta pots at the Stanford Shopping Center in Palo Alto, California from June 14 through July 14.