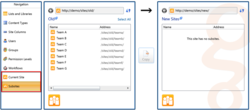 Montreal, Canada (PRWEB) June 04, 2013
Sharegate, the simplest SharePoint Migration tool, announced today the release of its latest feature: Migrate SharePoint Sites. From now on, users will be able to Copy SharePoint Sites, Subsites, Site Settings, Web Parts, Site Navigation and more with a simple Drap & Drop. It helps users who have many sites to copy and no time to transfer all of them separately. The key features and benefits of Sharegate's latest release include:
Copy SharePoint Sites: Migrate Sites and Subsites to SharePoint 2013 or 2010 with a simple Drag and Drop. It's also possible to promote a site as a Site Collection.
Copy web parts: Copy pages while keeping all the original Web Parts inside.
New reporting feature: Completely monitor your migration process with great reporting capabilities that allow you to track everything.
"The Copy SharePoint sites feature is totally in line with our vision of offering the simplest migration tool. Not only is it easy-to-use but it's also more than affordable for any organizations. The new reporting format is also a positive addition that complements the product very well. Everything gets traced during the migration and is delivered in a great interface. It's clearly one of our best releases so far!" - Simon De Baene, Product Director at Sharegate.
To get more information on this new version or to try Sharegate, check out this short video explaining everything you need to know about Sharegate 4.0.
About Sharegate:
Created by SharePoint geeks, Sharegate is a powerful migration product that helps SharePoint power users be more productive. It's so easy to use and it has so many great features that we don't need additional justification to explain its recognition as the simplest migration product! Trusted by more than 2,000 organizations throughout the world, Sharegate has become the ultimate reference in terms of SharePoint migration. Can't wait to learn more? Check out our website today! Share-gate.com.
Follow us on Twitter: @sharegatetools
Facebook: http://www.facebook.com/sharegatetools
Media Contact:
marketing(at)share-gate(dot)com