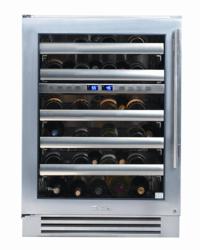 St. Louis, MO (PRWEB) June 06, 2013
True Refrigeration®, an industry leader in commercial refrigeration for more than 65 years, is proud to announce that its residential product line, the True Professional Series®, has been awarded five 2013 Awards for Design Excellence (ADEX).
ADEX stands for Awards for Design Excellence and is the largest and most prestigious awards program for product and project design in the architectural and design industry.
The True Professional Series® received the following 2013 ADEX honors:

True 24-inch Series Dual Tap Beverage Dispenser—Platinum
True Dual Zone Wine Cabinet—Platinum
True 15-inch Series Refrigerator—Gold
True 24-inch Series Refrigerator Drawers—Gold
True 24-inch Series Refrigerator—Silver
The ADEX Awards are presented to products with superior design and the highest marks in five categories, including innovation, technological advancement, quality, aesthetics and value. All voting for the ADEX Awards is conducted by an anonymous panel of professionals, who represent the industry's most respected professionals in their particular areas of expertise.
"True is delighted to be recognized with five 2013 ADEX awards," says True Director of Sales and Marketing, Steve Proctor. "We have dedicated ourselves to ensuring that the True Professional Series offers designers and consumers a refined line of commercial-quality undercounter refrigeration that provides a timeless and sophisticated design to any living space."
ABOUT TRUE PROFESSIONAL SERIES®
True Professional Series® is a division of True Manufacturing Company. For more than 65 years, True® has been an industry leader in commercial refrigeration. Now homeowners can experience that same quality with True Professional Series®, an authentic commercial refrigeration line refined for the home. Handcrafted in the USA with the same meticulous attention to quality and detail industry professionals demand, the residential series includes award-winning wine cabinets, refrigerators, beverage centers, refrigerator drawers and beer dispensers. For more information about True Professional Series®, please call 888-616-8783 or visit http://www.true-residential.com.
# # #