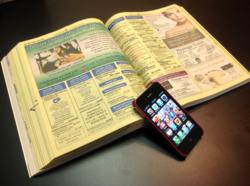 For the large Print/Digital companies, the greatest single predictor of whether a client will buy and maintain a digital program is whether they have bought and maintained a print program.
Salt Lake City, UT (PRWEB) June 11, 2013
Market Authority, the world's authority in Directional Media usage research and training, identifies three key strategies for large Directional/Print Media Companies.
1. True North: The center outcome must be first, to serve your existing clients today...with what serves today, and second, to develop and prepare for what will serve these customers tomorrow. Service to a client is principally centered in bringing high numbers of new (and repeat) customers at a low acquisition cost, even if the medium may not be popular to the client. Service also means going far beyond past practices to a Gold Standard of high-level response to a customer's needs.
"A surprising and damaging trend that has developed in Print/Digital Media companies is the prioritization of new revenue over renewal revenue. We believe this has contributed to the overall decline of revenue of many publishers," said Steve Sitton, CEO and founder of Market Authority, Inc. "Retaining and harnessing the power of your existing relationships is what holds the power to your future. If you run your business (and your commission plans) with an intense focus on serving, keeping and increasing existing customers, new customers will be attracted to you. If you run your businesses with new clients as your focus, you will fail at both renewals and acquiring new customers."
2. Content. Content. Content. You must increase content at all costs, especially in your print and mobile products. "These are the years of the surprising continual usage of print as well as the rapid uptake of mobile. You must build and maintain high content in both platforms. Consumers who pick up a directory or touch a mobile app and find only listings will not come back. Many phone books in the U.S., by the rapid fall of content, have been rendered essentially useless in a time when usage is (or would be) still high," Sitton said. "You should not let your print products die before their time and your mobile products will never get off the ground without abundant content now."
The single greatest mistake that Print/Digital directional media companies are making is to let their ad content drop below a minimum level so that the consumer is forced to look elsewhere to spend their money. Once this happens, the Print/Digital company has killed its own products.
3. Leverage the Print Portal to deliver the fuel to fund and power your digital rise and to stabilize client relationships while growing digital product sales and effectiveness.
Print/Digital companies must master the art of using what Market Authority calls the 'Print Portal' as they build their digital media offerings. "Because of the surprising continuation of print usage in the U.S. and because of its significantly lower customer acquisition cost than most other media, the phonebook has become a secret ace-in-the-hole for publishers," Sitton said. "Print must not be haphazardly neglected and dropped. Instead it must be effectively consumed as fuel…a fuel that (while slowly declining) will endure as an essential building block advantage in many markets for at least another decade."
In order to utilize the Print Portal, Print/Digital media companies must know and understand current consumer usage patterns and demographics...market by market. They must also calculate the cost of customer acquisition coming from the various directional media they sell. "In the U.S. and around the world, so far it has not been as much of the expected migration from print to digital as it has been an inclusion of digital with print, especially for those consumers with the most money to spend," said Sitton.
"After training and interviewing over 11,000 Directional Media sales reps and managers, a surprising truth has emerged," Sitton continued. "For the large Print/Digital companies, the greatest single predictor of whether a client will buy and maintain a digital program is whether they have bought and maintained a print program. Print must be used as the glue that holds and maintains a high ROI in an overall advertising campaign. This print ROI glue will safeguard customer loyalty while you slowly swap-out print revenue for digital," Sitton concluded. "Companies that don't enjoy the stabilizing influence of print as part of their offering are at a decided disadvantage."
The white paper will be released later this summer.
About Market Authority
Market Authority is the pre-eminent authority on directional media and its usage, having interviewed nearly 400,000 consumers over its five-year history. The company has built an approach (the Dual Imperative) that helps traditional media companies demonstrate the value of printed products in their local markets while training them to sell a combination of new digital solutions.