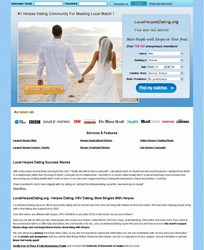 New York City, New York (PRWEB) June 12, 2013
A brand new herpes dating service called LocalHerpesDating.org has been recently launched, which helps women and men who are living with herpes to find a local match. According to the CDC, 20 million new cases of herpes show up every year. The cost of medical treatment for our healthcare system totals over $16 Billion annually. This is a serious and often overlooked problem. The most common age-group affected is 15 to 24, 50% of all new cases come from this age range, but all groups are susceptible to contracting herpes.
Unlike the majority of similar sites, LocalHerpesDating.org exclusively caters to single people and couples, who are living with herpes. It provides all users with the best chance to meet up with other individuals who live with similar problems in a non-judgmental, non-discriminatory environment, where everyone involved can be comfortable to be themselves. Not only do users of LocalHerpesDating.org get access to a great dating site, it's also a great tool for learning about your infliction and meeting others in the same situation. With more than 1000 treatment and inspiration stories shared, the site provides a safe and private way to get back into meeting people and reducing the stress of how and when to tell your new partner about your condition.
Local Herpes Dating provides lots of unique features; an online chat room, private photo albums, online herpes counselor, 24/7 support and much more. It also has a large forum, with many blogs and all kind of social networking features.
This site cares more about privacy than many other sites do, so users are not required to submit any information that they are not comfortable with. All personal information can be private and confidential until the user wants to take things further. The unique "Quick Exit" button helps protect our users as well by redirecting them to another site quickly, should someone start snooping around.
Disclaimer on this site: 100% Free basic membership allows member to browse the site, reply to email / instant messages, search profiles, send winks, hide profile, post comments, etc.
To know all about localherpesdating.org, please visit http://www.localherpesdating.org.