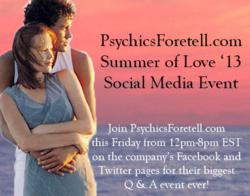 We are really excited about this event. The group of psychics we have on board are all so great, this will be an event you won't want to miss out on.
Bucks County, PA (PRWEB) June 03, 2013
PsychicsForetell.com will host an online event this Friday, June 7th, from 12pm to 8pm EST. The event will allow the company's Facebook and Twitter followers to ask one of the renowned love psychics a question about their love lives.
Foretell has rounded up some of their best love psychics to participate in this huge event. Fans and followers are in for a real treat. The event will feature some of the line's veteran advisors such as Margie, Spirit, Vicki, and John. Also joining in on the action will be some of Foretell's newer, yet very in demand psychics Adam, Carol, Michelle, and Mary.
To find out more about the psychics participating in the event, full psychic bio's and testimonials are available at PsychicsForetell.com under the Find A Psychic tab.
Will your partner finally pop the question? Are they ever going to come back to me? To join in on the event, "like" Psychics Foretell on Facebook or follow the company's Twitter page and tweet in your question to @psychicforetell on Friday.
Foretell's previous online Q & A events were a huge hit. "Fans and followers have been posting and messaging us when our next event would be so we wanted to give them something to kick off their summer," says one of the C.S.R.'s. "What better way to do it than by getting our best love psychics together to let them know if they will find love this summer?"