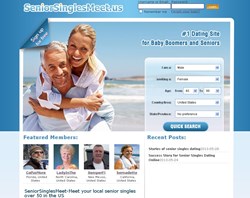 We provide a large platform for senior singles in the US to meet and date.
(PRWEB) June 07, 2013
According to a recent survey by SuccessfulMatch, a company with more than a decade of experience in creating niche dating websites, the single over-40 crowd looking for dates online has been limited to websites packed with less mature people for the most part.
That's changing. SuccessfulMatch is launching SeniorSinglesMeet.us to help seniors meet and date.
"We saw a need for a dating site for mature people," said company spokesman Matt. "Mature single people are often looking for someone equally mature, someone who has been through the turbulence of being a young adult and is now ready to spend quality time with someone else. So, we created Senior Singles Meet."
The website is aimed at senior singles through those who have reached and passed retirement age.
"You can be divorced, separated, never married or your long term partner is no longer here," Matt said. "We don't put restrictions on what relationships you've had in the past. We're focused on you right now and looking forward."
Joining the site is free and creating a membership can be done in just a few minutes.
"We intentionally keep the application process simple and free. Later on you can expand your profile to include plenty of other information," he said. "If you decide to upgrade your membership to one of the paid categories, you can do that as well, but you don't have to."
The site also offers member verification and verified member searches.
"We felt this was an important feature because it cuts down on spammers and people who are not serious about finding someone to spend time with," Matt said. "But you don't have to have your membership verified, although we do recommend it."
The site features forum for members to get to know each other before arranging an in person meeting and a blog area. Dating and safety tips are also available to the members. Greeting cards and winks can be sent and received.
"We watched and learned what the most popular features on other dating sites are and imported them into Senior Singles Meet," Matt said. "At the same time, we're not saying this is perfect. If the members see something that would make the site better, we encourage them to contact us."
For more information visit http://www.seniorsinglesmeet.us .