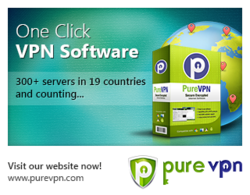 Don't get hooked by phishers and hackers, use PureVPN to protect your privacy online.
Hong Kong, (PRWEB) June 04, 2013
With the internet is rapidly turning into a darker place; VPN services can protect Internet users from the hackers and spammers swarming the internet. According to recent data presented in a Go-Gulf infographic states that, every second 18 users are victimized on Wi-Fi or public networks by cyber criminals. Every 1 in 10 social network user's online identity is at risk. More than 600,000 Facebook accounts are compromised every day. $1.2 million is declared unrecoverable, stolen by hackers through online banking transactions or decoding credit card passwords. Spammers also send malicious viruses, malware and Trojans to corrupt users' storage devices.
If this isn't enough, restrictions and limitations placed on websites by geo-location have frozen the freedom of internet. The only solution left to defeat the menace of cyber crime and Internet restrictions is a VPN service, like PureVPN (http://www.purevpn.com).
Only a VPN service, like PureVPN, can empower users with an ultra protective shield of army grade protocols that encrypt every bit of online information as it passes it through secure tunnels. Once connected with PureVPN; a user's IP will be masked with one of PureVPN servers' IP. The private network will secure the user's online presence and enable complete accessibility to the internet by unblocking Geo-location restrictions. And for a limited time, the one year subscription now comes with an incredible lifetime discount of 65 percent off the annual $93.45 charge. For further details visit us at http://www.purevpn.com.
PureVPN offers different membership categories -- one month for $9.95 and 12 months for $49.95. The 12 month package plan originally retails for $143.40 but it has been given an unbelievable discount of 65% in celebration of PureVPN's 6th birthday.
PureVPN has an edge over its competitors. It offers consistent and dynamic services, along with well-equipped, easy-to-use VPN software. It provides access to more than 22,000 IPs, over 300 servers in 19 countries. Unlike other VPN services, PureVPN offers two simultaneous logins on one single account. To ensure compatibility with most devices, it continues to add support for additional operating systems. PureVPN superlative VPN services are enhanced with its user friendly 24/7/365 customer care via online chat, email and ticket support.
There are no superheroes on the internet to protect users from cyber criminals. Don't be the next victim.
PureVPN is founded and operated by Hong Kong based GZ system Ltd. Formed in 2007, its mission is provide online security, freedom, privacy, compatibility and anonymity. PureVPN proudly serves a wide range of users each with different needs -- privacy seekers looking for anonymity, expats who love to stream TV from home, gamers who want to enjoy multi-player geo-restricted games and companies looking to boot the effectiveness of their SEO campaigns. PureVPN takes care of every need. For more information, visit http://www.purevpn.com.