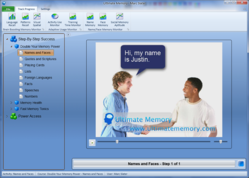 The study suggests that when people's dopamine levels are high this makes it more likely for them to have a stable and retrievable memory of that event.
New York City, NY (PRWEB) June 03, 2013
Software company eReflect keeps track of all the latest research in memory science, to support and improve their self-improvement software, Ultimate Memory. As eReflect noted today, a new study under lead researcher Emrah Düzel has found that dopamine, the hormone associated with brain pleasure centers, is also linked to memory improvement. The researchers explained that this finding might help to better understand the process of memory deterioration with brain aging and bring scientists closer in unveiling the mysteries of memory.
The study conducted at the German Center for Neurodegenerative Diseases and published in the Journal of Neuroscience, revealed that those test subjects with higher dopamine levels during a memory formation session were able to recall those memories later on, in contrast to the subjects not receiving dopamine but a placebo instead. The study suggests that when people's dopamine levels are high, this makes it more likely for them to have a stable and retrievable memory of that event. In essence, the study's conclusion showed how dopamine levels influence memory formation and recollection. Once these conclusions are further confirmed by other studies, there may be a wide range of possible implementations and outcomes using adjustment of dopamine levels.
Ultimate Memory™ developers, upon discussing the study's implications, commented that they do need to be corroborated before scientists move on to ways of applying this finding to people who suffer from weak or declined memory. New ways for getting an improved memory will, they hope, arise from this research as it paves the way for improving memory via dopamine control, allowing individuals to get stabilized memories for longer periods of time.
The study's findings might also contribute in better dealing with Alzheimer's disease, Ultimate Memory™ stated. Since people with Alzheimer's see their episodic memory deteriorate, this finding provides a possible solution as to better control over memory lapses. Given that new memories are better formed when dopamine is increased, according to the study, this gives a possible solution that new memories in elderly people with Alzheimer's can be stabilized and their memory lapses decreased. However, Ultimate Memory™ noted, further research is needed, before this hypothesis is implemented.
For more information on how Ultimate Memory software can help, please visit http://www.ultimatememory.com.
About Ultimate Memory™
Ultimate Memory™ is the market's leading memory improvement software package.
Scientifically proven to improve memory with as little as ten minute's user per day, Ultimate Memory™ is also backed by an iron-clad guarantee.
Containing many innovative strategies, tutorials, tips and exercises, users benefit from a myriad of varied ways to learn.