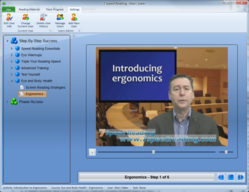 The book is a multipurpose agenda, making it useful for many reasons.
New York City, NY (PRWEB) June 05, 2013
Speed reading software 7 Speed Reading™ and the developers at software company eReflect today announced that "Keep On Reading Agenda 2013" is a must-read book for any self-proclaimed book-lover. The editor of "Keep on Reading Agenda 2013," Julie Joliet, curated a one-of-a-kind collection of passages from well-known and very-much-loved classic literature novels in an inspired and inspiring collection. The book, or "agenda" as it is being called, offers excerpts from the works of famous classic authors such as Lewis Caroll, Jane Austen, Franz Kafka, Gustave Flaubert, and many more.
7 Speed Reading acknowledges this book to be a smart technique for engaging people in reading more literature. Each page of the agenda includes an excerpt that the reader gets to read and muse over. The idea of a reader interacting with a short passage and actually feeling compelled to read the whole book seems to be the main principle of "Keep on Reading Agenda 2013." As the software developers know, it's important to get people interested in reading as part of a speed reading program, which is why they included works of classic literature in their software program as well.
The book is based on a simple hypothesis: getting someone to "rise to the bait," where the reader is offered an excerpt, feels enthralled by the text, and therefore is motivated to read the whole book. The agenda promotes literature reading, an idea teachers could employ as a way of getting their students to read more literature. People often don't think they have the time to read, or are distracted by less demanding activities, and books like "Keep on Reading Agenda 2013," show how it is possible to make people remember the pleasures of reading.
The book is a multipurpose agenda, making it useful for many reasons. Not only does it contain hand-picked passages of great literature, it also contains practical information, like maps, currency conversion rates, recipe inspiration and more fun, whimsical ideas such as necktie knot how-to's. It's neither a conventional calendar nor a literature collection. It's an everyday companion of multiple worlds as these were imagined by world-renowned novelists.
7 Speed Reading™ developers commented that Julie Joliat did a great job with "Keep on Reading Agenda 2013" and they regard her agenda a witty initiative for making reading a daily part of people's lives.
For more information about the benefits of using 7 Speed Reading, please visit the official website at http://www.7speedreading.com.
About 7 Speed Reading™
7 Speed Reading is the only modern speed reading software that uses the latest technology to produce superior results.
The software provides its users with a new way to master speed reading that guarantees three times the reading speed along with improved memory and comprehension.
The software is poised as the most comprehensive speed reading system anywhere. It contains seven learning strategies, fifteen software activities, video training, advanced tracking capabilities and many more exciting features.