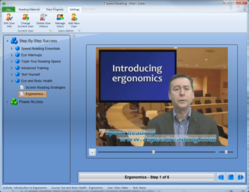 The topics covered at the convention included a talk on effective feedback strategies in teaching reading...
New York City, NY (PRWEB) June 06, 2013
eReflect, the parent company of 7 Speed Reading™ software, announced today that the International Reading Association, known for its substantial contributions towards literacy and reading promotion, celebrated its 58th annual convention this spring in Austin, Texas. The topics covered at the convention included a talk on effective feedback strategies in teaching reading; eReflect's developers pointed out that this methodology forms the basis of the progress tracking feature that is such a popular aspect of the 2013 release of 7 Speed Reading™ software.
Since its inception, the International Reading Association has been leading initiatives designed to promote literacy and new methodologies of learning as a way of making reading equally accessible and beneficial to as many individuals as possible. eReflect commented today that the development team behind the software appreciate the efforts made by the group to organize and host this landmark event for literacy promotion.
7 Speed Reading™ developers noted that the service of the International Reading Association traces back fifty years and, from the beginning, has been initiating debate on reading strategies, reading research, and making the habit of reading more popular and widespread. During the 58th annual IRA convention, key speakers presented groundbreaking research findings as well as results of studies on previously neglected aspects of reading. The annual IRA convention featured prominent educators, researchers, and reading specialists, and there were many lively discussions on the topic of reading promotion.
7 Speed Reading™ developers hope that speed reading will be featured at future conventions. eReflect expressed their endorsement today of the IRA's efforts in promoting literacy that seek to give the reader's edge to more individuals.
eReflect and the development team behind 7 Speed Reading™ are pleased that this year's International Reading Association convention was a great success for both attendants and speakers, and look forward to future contributions to the science of literacy and reading by this respected group.
For more information about the benefits of using 7 Speed Reading, please visit the official website at http://www.7speedreading.com.
About 7 Speed Reading™
7 Speed Reading is the only modern speed reading software that uses the latest technology to produce superior results.
The software provides its users with a new way to master speed reading that guarantees three times the reading speed along with improved memory and comprehension.
The software is poised as the most comprehensive speed reading system anywhere. It contains seven learning strategies, fifteen software activities, video training, advanced tracking capabilities and many more exciting features.