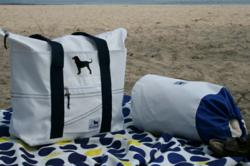 Victor, NY (PRWEB) June 03, 2013
New England retailer, The Black Dog (http://www.theblackdog.com), is keeping with its tradition of offering uniquely branded quality products that cater to those with a passion for the sea. In time for peak tourist season, the retailer is teaming with SailorBags (http://www.sailorbags.com) to offer a private label line of sailcloth gifts and gear, including duffels, totes, stow bags and assorted accessories. Tourists this season will now be able to select the Black Dog branded items made of the same durable sailcloth that sailors have depended upon for years.
The Black Dog has grown from one store in Vineyard Haven, Mass. to a major brand with 19 General Store locations along the Atlantic Seaboard. Every item from mugs, to clothing, to travel items features the iconic Lab-Boxer mix called Black Dog.
The new Black Dog adorned SailorBags items can be purchased now at http://www.theblackdog.com/New-Totes/ and in most of its retail locations. Prices range from $24 to $98.
"The Black Dog is a well known trademark that celebrates a sense of community, a passion for the sea and maritime pursuits, and a thirst for life. Every product that we put our logo on must represent the same sense of quality and commitment that we pride ourselves on," said Diane Fiset, Product Director, The Black Dog. "Working with SailorBags combines our community and company values with products that appeal to anyone who is active on and off the water."
SailorBags are defined by their simplicity of design and functionality. Many different styles and sizes accommodate everything from sporting gear and cooler bags to duffels holding up to a week's worth of food and clothing. The bags offer qualities that are important to on-the-go consumers, weekend adventurers and sailors —waterproof, washable, stain resistant, and UV protected to stand up to a myriad of environmental elements. The company has broadened its product line, which now includes decorative sailcloth items for the home or cottage including pillows, placemats and bucket bags.
"The Black Dog and SailorBags is a natural retail partnership – we embody the same mission to delight our customers with new and exciting products while standing by our commitment to quality and customer service," said Anne Zimmer, president, SailorBags.
About SailorBags
Started in 2001 by a lifelong sailor, SailorBags® makes affordable bags from custom-woven sailcloth designed for a rough, adventurous and sporty lifestyle. The company continues to design stylish, yet very durable products that stand up to sun, water and storms. SailorBags is headquartered near New York's Finger Lakes region with close proximity to many of its key markets and customers—those who have a passion for the water and the nautical lifestyle. For more information about SailorBags visit http://www.SailorBags.com or call 800-639-1754.