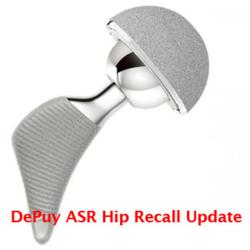 If you or someone you love were injured by a DePuy ASR hip replacement recall device, please visit yourlegalhelp.com, or call toll-FREE 1-800-399-0795
Columbus, OH (PRWEB) June 02, 2013
The DePuy ASR hip replacement lawsuit lawyers of Wright & Schulte LLC, an experienced defective medical device law firm, are extremely pleased that a Los Angeles Superior Court judge has chosen to uphold the $8.3 million jury award granted to the Plaintiff in the nation's first DePuy ASR hip recall trial. According to a May 27th report from MassDevice.com, the judge rejected two motions Johnson & Johnson filed in an attempt to have the verdict overturned, rejecting the company's assertions that the Plaintiff had not presented enough evidence to prove the DePuy ASR hip replacements were defectively designed. (Kransky v. DePuy, BC456086)
[massdevice.com/news/jjs-depuy-cant-dodge-
83m-metal-hip-implant-verdict; MassDevice.com,
May 27, 2013]
Wright & Schulte LLC continues to offer free case evaluations to DePuy ASR hip replacement recipients who allegedly suffered serious complications including:

Metallosis
Loosening of the implant
Pain
Swelling
High levels of chromium and cobalt ions in their blood
Premature failure resulting in revision surgery
For more information on filing a DePuy ASR hip replacement lawsuit, or to arrange for a free legal consultation, please visit yourlegalhelp.com, or call 1-800-399-0795.
Accoding to a May 16th Bloomberg report, Court filings show that more than 10,000 DePuy ASR hip lawsuits have been filed since the all-metal hip implants were recalled in August 2010 because of an unacceptably high failure rate. The Plaintiff in the California trail was ultimately awarded $338,000 in medical costs and $8 million for pain and suffering too. However, jurors declined to award punitive damages in the case. According to a January 22nd report from The New York Times, evidence was presented during the trial that raised serious questions about Johnson & Johnson's handling of the DePuy ASR hip implant, including a 2011 company analysis that found patients implanted with the metal-on-metal replacement showed a hip replacement failure rate of 40 percent of their implant within five years that was never made public. According to Wright & Schulte, the Los Angeles case was closely watched, as it could predict how other juries will rule in similar DePuy ASR hip recall lawsuits.
[bloomberg.com/news/2013-05-16/j-j-will-stop-sales-of-metal-on-metal-hip-replacements.html May 2013]
According to court documents, the majority of lawsuits filed since the DePuy ASR hip recall are pending in a federal litigation underway in U.S. District Court, Northern District of Ohio, where the first trial is scheduled to begin in September. Earlier this month, attorneys for Johnson & Johnson filed a motion in that litigation seeking to exclude evidence of the DePuy ASR recalls, as well as other product recalls, from its bellwether trials. Johnson & Johnson asserts that such evidence is not relevant to plaintiffs' claims. (In re: DePuy Orthopaedics, Inc. ASR Hip Implant Products Liability Litigation – MDL 2197)
[nytimes.com/2013/01/23/business/jj-study-suggested-hip-device-could-fail-in-thousands-more.html?_r=0; New York Times, January 22, 2013]
About Wright & Schulte LLC
Wright & Schulte LLC, a leading personal injury firm, is dedicated to the belief that America's legal system should work for the people. Every day, the attorneys of Wright Schulte LLC stand up for the rights of people who have been injured or wronged, and fight tirelessly to ensure that even the world's most powerful corporations take responsibility for their actions. If you're looking for a law firm that will guarantee the aggressive and personal representation you deserve, please do not hesitate to contact Wright & Schulte LLC today. Free DePuy ASR hip replacement lawsuit case evaluations are available through yourlegalhelp.com, or call 1-800-399-0795.
Contact:
Wright Schulte LLC
812 East National Road
Vandalia, Ohio 45377
1-800-399-0795