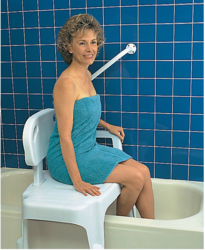 Fulton, MD (PRWEB) June 04, 2013
For some people, getting in and out of the bathtub safely can pose a challenge. This lack of mobility may stem from a recent hip replacement surgery, lower body weakness, or severe arthritis. Luckily, transfer benches can assist such individuals as they navigate the restroom, making life easier and more comfortable.
As part of a site-wide relaunch designed to streamline and support the often-confusing process of selecting bathroom safety supplies, JustHomeMedical.com has just updated their selection of transfer benches to include 28 high-quality models for patients (and budgets) of all sizes. From heavy-duty sliding benches to combination transfer benches/commodes, the Fulton-based company hopes to reach a wider consumer base and improve the lives of their customers.
The transfer bench is a device designed to provide support and guidance for those who face difficulty in navigating the obstacles of a slippery bathroom. Equipped with support handles and adjustable legs, the bench provides a level surface for the user to sit on as they get in and out of the tub.
A quick look at the relaunched site reveals a varied choosing of models, ranging in price from $29 to $220. Highlights include the Ableware Sliding-Rotating Transfer Bench ($148.95), with a rotating swivel top for easier transfers, and the Invacare Blow-Molded Transfer Bench ($69.95), which includes a built-in soap dish, hand-held shower holder, and shower curtain opening. For those who want to go the minimalist route, there's the Everyday Transfer Board ($29.95), a non-slip plastic board designed to enhance bath safety.
Bryan Mercer, co-founder of JustHomeMedical.com and a licensed pharmacist for over 30 years, recommends the Drive Padded Seat Transfer Bench. "This bench is comfortable, customizable, and perfect for any user," said Mercer. "The bench has a weight capacity of up to 400 pounds, so I'm confident that it will be able to help just about anyone."
Just Home Medical will continue to expand their bathroom safety products selection in the coming months, with relaunches of the Grab Bar and Bedside Commode categories slated for the coming weeks.
About JustHomeMedical.com
Just Home Medical provides a wide range of home medical supplies and equipment to help families maintain a healthy lifestyle. They offer both convenience and selection with thousands of products to choose from that can be delivered right to your home. Their user reviews, product videos, detailed descriptions and variety of search options make it easy to find the products best suited for you. JustHomeMedical.com is proud to serve the millions of families who seek practical solutions to everyday medical problems and want the best products at the lowest prices.