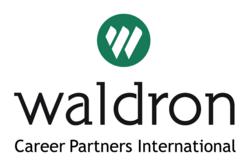 Seattle, WA (PRWEB) June 04, 2013
Waldron, a leading talent management firm and the Seattle office of Career Partners International, is delighted to announce that for the third year in a row, it has been honored as one of the Top Pacific Northwest Corporate Philanthropists by the Seattle Foundation and Puget Sound Business Journal (PSBJ). The 2013 Honorees were announced at a luncheon held at Seattle's Sheraton Hotel on May 17th.
The annual PSBJ Corporate Philanthropist Award recognizes 75 companies that "demonstrate above-and-beyond overall giving" and embrace corporate philanthropy as part of the company's culture. The full list of companies is published in the Corporate Citizenship: Business of Giving special report.
Waldron's dedication to social responsibility was also recognized last November, when the organization became the first executive search and talent management consulting firm headquartered in Washington State to achieve B Corporation status. B Corporations must "meet rigorous standards of social and environmental performance, accountability, and transparency." The 759 B Corps from 27 countries and 60 industries all share the goal of redefining success in business.
Mike Humphries, Waldron's President, shared, "At Waldron, we have a 30 year legacy of community involvement, volunteerism, and social service. Service and involvement are important core values at the company and permeate all that we do in philanthropy and in our business services. We are flattered to be among this group of co-honorees, people, and organizations who help to make this such a wonderful place to live and work."
About Waldron
Founded in 1982, Waldron is the consulting partner strategic leaders choose to help attract, engage, and inspire effective leaders. Waldron provides a unique combination of executive search, leadership development and career transition services across sectors and industries. Our passion is helping people and organizations realize their full potential and increase their impact. Headquartered in Seattle with offices in Boston, Portland OR, Phoenix, Salt Lake City and Boise, Waldron is an equity-owner of Career Partners International (CPI), a global talent management firm, serving its clients in over 200 locations worldwide.
About Career Partners International
Established in 1987, Career Partners International is one of the world's largest and most successful global providers of talent management solutions. Organizations of all sizes and industries turn to Career Partners International to successfully assess, engage, develop and transition talent using the expertise of over 1600 highly experienced professionals in the areas of assessment, executive coaching, leader development and outplacement. With more than 200 offices in over 40 countries around the world, Career Partners International assures that its clients have local experts with global reach in talent development, career management, executive coaching, outplacement and career transition services. Additional information can be found by visiting cpiworld.com.