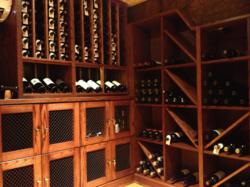 ...our excitement for the project grew and the quality they brought to the table far exceeded any of our expectations.
Greenville, SC (PRWEB) June 04, 2013
Kessick Wine Cellars has once again served the hospitality industry with a beautiful blend of aesthetically pleasing design, capacity and function. A number of years after completing a Kessick Wine Cellar & Display project at Devereaux's Restaurant, part of the Table 301 Restaurant Group in Greenville, SC, Table 301 commissioned Kessick with the expansion of the wine cellar at their Soby's New South Cuisine Restaurant on Main Street. Kessick completed the job with continued accolades from the restaurant group. "The team at Kessick really helped take that space to the next level," said Carl Sobocinski, "Their craftsmanship is top notch. Once we saw the blue prints, our excitement for the project grew and the quality they brought to the table far exceeded any of our expectations."
The primary purpose of this project was not only to expand the capacity in an elegant way, but to add functionality to the space that it did not previously have. "This was a project I've wanted to do for a while," says Carl Sobocinski, Owner, Table 301. "This is the same cellar that our wines have always been stored in, but now we have access to it from within the restaurant and expanded our capacity. Currently our list has around 600 selections and about 3,500 bottles. The Cellar renovations give us the ability to double our capacity. In addition to bottle storage, the renovations also include wine storage lockers that our guest can purchase and will then enjoy certain benefits and perks. We have also added a new private dining space." When completed, this project exceeded all the requirements for design, capacity and function that Table 301 requested.
Kessick Wine Cellars has designed and built Wine Storage and Display Systems for the Hospitality Industry from coast to coast. Restaurants, bars, hotels, resorts and wineries across the country can boast of quality, functional, beautiful designs by Kessick Wine Cellars.
# # #
If you would like more information about wine cellars for the hospitality industry, or to schedule an interview with Robert Bass, please call Cheri Burress at 864-297-1911 or email office(at)kessick(dot)com. Information is also available at http://www.kessick.com.