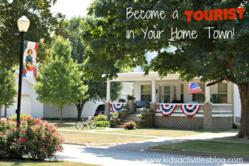 Create fun memories with family and friends this summer.
Dallas, Texas (PRWEB) June 12, 2013
Be a tourist in your hometown this summer and other fun family outing tips have been released on Kids Activities Blog. Create some fun family memories without draining the family budget.
Kids can be easily entertained by going on an exploration or discovery journey. Any small town or even ones hometown is a great start to begin the discovery. Seeing one's own town or neighbor town from a tourist point of view puts things into perspective and makes a great educational journey, too.
Walk down the town center boulevard and try to find memorial or historical markers. Take time reading the information and talk to the kids about the historical event. Look around the area and find a local museum. Ask the local Historical Society or Museum if they offer walking tours or can recommend points of interest in the area.
Finding out how the community was formed and what the town's economical significance is can turn into an educational lesson for the kids. Take advantage of any local festival, visit a local restaurant and just take a long walk and use the senses other than just seeing to discover new things. Take in the sounds, smell, and taste the food.
Another very useful tool for any family outing is a DIY bucket. Making a bucket is simple. Cut of a neck of a juice bottle to leave the wide base. Tape the edges of the base to cover any sharp spots. Make two holes to hold a string and ready is the great bucket for any wilderness explorer. The kids will love to collect any discovered items in their DIY bucket. It makes a great snack holder, too.
For detailed instruction and to get additional fun summer tips, check out Kids Activities Blog this week. Come get inspired to create some fun family memories this summer.
About Kids Activities Blog
Kids Activities Blog is a website created by two moms (who collectively have 9 children), Rachel Miller and Holly Homer from June Cleaver Nirvana. It is their daily goal to inspire parents and teachers to play with kids. This interactive website publishes simple things to do with kids twice a day. Kids Activities Blog is a great tool for moms and teachers to find kid-friendly activities that create memories and sneak learning into the fun.