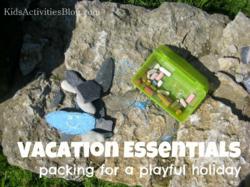 Chalk is lightweight and can turn into many fun games at the destination.
Dallas, Texas (PRWEB) June 13, 2013
A list of helpful vacation essentials and tips to preserve the memories this summer have been released on Kids Activities Blog. Learn how to pack for playful trips and take time to preserve fun moments that turn into lifetime family memories.
Space is limited inside a suitcase. To pack for entertainment no matter how the weather turns out to be at the destination can be a challenge. Seasoned moms have opened up their suitcases to reveal their vacation essentials.
Chalk is always a great thing to have. It is small, lightweight and it is versatile to turn into lots of fun playful games. Packing chalk can make for a fun treasure hunt game, an Olympic ring game, can turn into land art, and can turn into a fun game of family Twister. Wonder markers, bubbles, balloons, paper, buckets, shovels, blow up beach balls and a collapsable tunnel are some of the fun essential things for a playful vacation.
Besides taking pictures to preseve memories during family vacations, seasoned moms recommend writing a journal and getting the kids involved in filling in the ideas on a daily basis. Creating a post card journal, having kid photographers and kid video takers, and writing small articles after fun adventures will create fun family treasures for years to come.
For detailed instructions and to get additional fun vacation tips, check out Kids Activities Blog this week. Come get inspired to preserve family summer memories for years to come.
About Kids Activities Blog
Kids Activities Blog is a website created by two moms (who collectively have 9 children), Rachel Miller and Holly Homer from June Cleaver Nirvana. It is their daily goal to inspire parents and teachers to play with kids. This interactive website publishes simple things to do with kids twice a day. Kids Activities Blog is a great tool for moms and teachers to find kid-friendly activities that create memories and sneak learning into the fun.