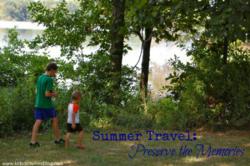 Preserve family history this year with tips from seasoned Moms.
Dallas, TX (PRWEB) June 14, 2013
Summer time allows for lots of fun family moments. Be prepared to preserve the memories with tips and ideas from seasoned Moms. Kids Activities Blog has released lots of easy tips to make a memory jar and many more simple ideas to preserve fun family moments.
Keeping track of the trip is not only fun it allows to relive family moments over and over again. Once the kids understand the task of collecting mementos, they will start seeing things with a new enthusiasm and learn even more when travelling. Give the kids a journal before heading out the door and encourage them to collect tickets, postcards, and brochures to put inside the journal.
Present the kids with a disposable camera and let them be the photographer for the trip. Let them take pictures to see the sites from their point of view. Ask the child to pick up post cards at every truck stop and potty break, besides the famous sites, to create an album of fun memories.
Kids love to collect items. Why not create memory mason jars filled with items for each family adventure. Collecting sea shells at the beach, twigs and rocks at the mountain stream, and flowers and leaves on the meadow, make beautiful jar art on the coffee table. They make conversation starters for years to come.
For detailed instructions and to get additional tips for summer memories, check out Kids Activities Blog this week. Come get inspired to preserve family history this year.
About Kids Activities Blog
Kids Activities Blog is a website created by two moms (who collectively have 9 children), Rachel Miller and Holly Homer from June Cleaver Nirvana. It is their daily goal to inspire parents and teachers to play with kids. This interactive website publishes simple things to do with kids twice a day. Kids Activities Blog is a great tool for moms and teachers to find kid-friendly activities that create memories and sneak learning into the fun.