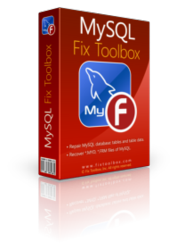 MySQL Fix Toolbox, a functional MySQL fix tool suitable for users of all skill levels.
Sacramento, CA (PRWEB) June 26, 2013
Fix Toolbox, one of the most experienced developers of specialized file repair and data recovery solutions for applications of all types, presents MySQL Fix Toolbox, a powerful, fast and easy-to-use tool intended for regular and professional users. With an intuitive wizard-based interface comprised of just a few simple steps, a proprietary file analysis core and intelligent data recovery algorithms, the tool is well-equipped for the purposes of most users facing a database corruption problem. The new version of the program features a number of important updates and improvements, both speed- and quality-wise. This MySQL fix tool recovers data either to a set of SQL scripts or a new MySQL database located on a remote server. The software works with databases of any size and supports recovery over the local network. The built-in database viewer makes it possible for users to see a complete list of recoverable items and mark the ones that should be recovered on the next steps. A detailed recovery log is shown upon the completion of the process.
"We are extremely glad to be the developer of what appears to be the best MySQL fix tool on the market," says Boris Bobrov, Senior Product Manager at Fix Toolbox. "Our product offers an interface that even a child won't have problems with and recovers more data than the very best of its nearest competitors do. We plan to keep working on making this product the synonym of a MySQL fix tool."
The free trial version of the program can be downloaded from the official website of Fix Toolbox.