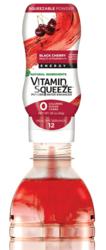 We go through a lot of trouble and expense to make sure our drinking water is the purest it can be. So why dump a load of chemicals into it?- Bill McKay, Ecosentials LLC
Phoenix, Arizona (PRWEB) June 03, 2013
With summer coming, consumers will be reaching for water enhancers to add flavor and variety. Out of $200 million worth of water enhancers, only one lets you keep water's natural purity: Vitamin Squeeze™, which is made from natural ingredients and contains no preservatives.
"You pick a water enhancer and give yourself a plus for being healthy. Not so fast," said Bill McKay, Founder and CEO of Ecosentials LLC. "Most water enhancers are, in fact, packed with chemical sweeteners and preservatives, much like the soda you may be trying to cut down on."
Aside from containing no preservatives, Ecosentials' Vitamin Squeeze™ uses natural flavors, is sweetened naturally with zero-calorie stevia and provides a potent, fresh portion of vitamins with every dose. Sold in more than 2,500 stores, Vitamin Squeeze™ is the only preservative-free option in a water enhancer market dominated by conglomerates such as Kraft and Coca-Cola.
"We go through a lot of trouble and expense to make sure our drinking water is the purest it can be," continues McKay. "So why dump a load of chemicals into it?"
Among the ingredients listed in commonly available water enhancers are sweeteners including acesulfame potassium and preservatives such as potassium sorbate and artificial dyes. Many labels also state that the product "contains less than 2% of natural flavor."
In contrast, Vitamin Squeeze™ uses natural flavors and stevia and gets its color from fruit and vegetable powders. Vitamin Squeeze™ is also the only enhancer to emphasize the need to replenish vitamins B and C. The importance of these nutrients is well known, but less so is the need to replenish them regularly throughout the day.
Vitamin Squeeze™ Powder Water Enhancer is sold in the water and powder drink mix sections of more than 2,500 Safeway, SUPERVALU, Albertson's, and other stores nationwide. The product is also rapidly gaining new distribution across natural, fitness and nutrition channels. For more information, please visit http://www.vitaminsqueeze.com.
** Consumer research from Mintel
About Vitamin Squeeze™
Ecosentials LLC developed the breakthrough squeezable bottle in 2012 with Vitamin Squeeze™ Liquid Water Enhancers. It used its patent pending dispensing technology to create the first-of-its-kind, squeezable Powder Water Enhancer. The line, which is unique to market because of its squeeze dispensing natural powder, is available in Multi-Vitamin, Energy and Weight Control formulas. Vitamin Squeeze™ Powder Water Enhancers are a delicious way to add vitamins C and B to your drinking water, which are clinically proven to be water-soluble vitamins that the body requires to be replenished throughout the day. The portable on-the-go bottle makes it easy to transform water into a nutrient enhanced beverage anywhere, anytime. Benefits include multi-vitamin, energy and weight control. When hydrating, remember: A Squeeze Is All You Need™ for delicious custom flavor and benefits.