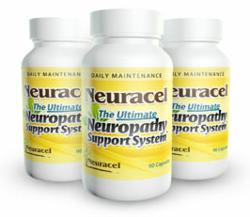 Boise, Idaho (PRWEB) June 02, 2013
One of the most widely prevalent nerve disorders, peripheral neuropathy is a medical condition that actively affects around 20 million of people in the United States alone, as stated by the Hands Feet & Heart on http://goo.gl/95LfA. Characterized by the patients feeling severe pain in the lower as well as the upper extremities of the body, it has quite a detrimental impact on the lifestyle of all patients and makes the performance of even the simplest of tasks very challenging. The intense pain, coupled with the discomfort in mobility, is amongst the prime reasons that make peripheral neuropathy such a menace. Moreover, apart from the physical pain it causes, peripheral neuropathy also makes patients undergo metal duress as well which adds to their woes. However, with the launch of the Ultimate neuropathy support system, Neuracel aims to put aside all the challenges and provide a treatment that is not only effective, but also entirely natural.
Bringing the best of both the worlds together, the Ultimate neuropathy support system consists of five herbs, each selected after intense research carried out by the experts at the company. Herbs such as California poppy, Lobelia, Prickly Ash Bark, Corydalis and Passion flower have all been found to contain certain properties that make them conducive for Peripheral neuropathy treatment. The use of these herbs provides instant pain relief and helps patients fight off the symptoms. Furthermore, another benefit that this product possesses over other similar supplements is that it promises sustainability too. Thus, as peripheral neuropathy is a long term condition, treating it requires a long term approach. Otherwise there can be outbreaks in the future.
About Neuracel
A company dependent on nature for providing answers to different medical conditions, Neuracel is renowned for maintaining top quality safety standards. The products manufactured are not only natural, but also innovative and effective in equal measure. For further information about the company, visit http://www.neuracel.com/specialoffer.php. The Ultimate Neuropathy Support System can also be directly ordered at http://www.neuracel.com.