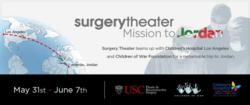 We want to democratize medical education
Beverly Hills, CA (PRWEB) June 03, 2013
SurgeryTheater.com Set to Release Surgical Videos of Mission to Jordan to Promote Global Medical Education.
Who: SurgeryTheater.com, a start up from Los Angeles CA, which is an online medical publishing company launched in November 2011 with the goal of indexing every surgical procedure in the world, partners with Children of War Foundation, a non-profit foundation based at Children's Hospital Los Angeles and Doctor Andrew Ordon, co-host of the syndicated CBS TV show The Doctors.
What/When: On May 31st to June 8th the team will travel from Los Angeles CA to Amman, Jordan. Six expert reconstructive surgeons from complementary fields will be performing life-changing procedures. The team includes Mark Urata, MD, DDS, Head of USC/ CHLA Plastic & Reconstructive Surgery, Jeffrey Hammoudeh, MD, DDS, Craniofacial Plastic Surgeon at CHLA, Andre Panossian, MD, Director of Vascular anomalies at CHLA Hospital, Kami Parsa, MD, an Oculoplastic Surgeon from Beverly Hills CA & co-founder of Surgery Theater, Andy Chang, MD, Pediatric Urologist at CHLA & Andrew Ordon, MD, plastic surgeon and host of the Doctors show. The team will be operating in Amman on 30 patients, who include Syrian refugee war victims and underprivileged patients with severe deformities.
Why: When asked why this partnership between Surgery Theater and Children of War Foundation, Dr. Kami Parsa, co-founder and CEO of Surgery Theater stated, "We believe the work that Children of War foundation is doing is very important in transforming these people's lives. We created Surgery Theater to democratize medical education, and we feel that this mission's work can be exponentiated by documenting every surgical procedure that is performed on these children and making it available as an educational tool for other doctors for free, so that the rest of the world can duplicate these results."