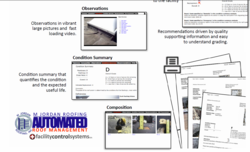 (PRWEB) June 19, 2013
Roof systems are one of, if not the most, expensive single building components under an owner's care. Successfully maintaining roof systems can also be a very time consuming and expensive undertaking.
Different roof companies offer different kinds of roof management programs in an attempt to help the building owner maintain some level of cost and control. In the past, these programs have been expensive, cumbersome, and time consuming, until now.
Since the implementation of M Jordan Roofing's "Automated Roof Management" program, building owners have seen a 30% to 50% decrease in the cost and severity of roof leaks, have instant capital expenditure planning and historical data reports at the tip of their fingers.
In order to manage effectively any type of commercial roof system, the following items must be taken into consideration.

Extend the service life of the existing roof
Help avoid large unplanned capital expenditures
Help avoid emergency leaks
Greatly reduce overall life-cycle cost
Avoid the hidden cost of roof leaks
Give back the power of budget predictability
If these factors are not considered, the program cannot be sustained for long. Thanks to technological advances, gathering and sharing of data is easy. Roof inspectors can enter data while still on the roof using tablets or smart phones. Photos of suspect leak areas can be identified, noted, repaired, stored and shared instantly without the inspector ever leaving the roof.
Having a program like this available, building owners and managers can now afford to implement and maintain a comprehensive roof management program and regain control of their entire inventory at the push of a button.