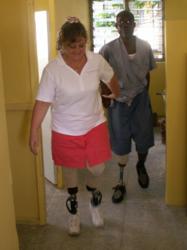 US prosthetists can now log on from their office and immediately work with technicians in Ghana to teach new methods or watch a patient walk on their new limb - and provide instant feedback to the technician.
Nashville, TN (PRWEB) June 04, 2013
In efforts to provide the most advanced prosthetic limbs possible, Standing With Hope, led by Peter Rosenberger, merges proven methods with today's technology and a unique source of help to provide high quality artificial legs to amputees in West Africa.
Collecting used prosthetic limbs from around the United States, Standing With Hope tapped an unusual partner to help recycle the devices. In collaboration with Corrections Corporation of America, inmates at a Tennessee correctional facility volunteer to disassemble the collected devices in order to reuse such items as adapters, screws, feet, pylons, and knee units to be used in conjunction with the custom-fit carbon-fiber sockets made on site in Ghana. Those recycled items, along with purchased materials, regularly make their way to Ghana Health Services' National Prosthetic and Orthotics Centre where local technicians have trained under Standing With Hope's volunteer prosthetists for eight years.
With the recent installation of wireless high-speed internet service in the center- that training, along with real-time patient evaluation via video conferencing, just took a major step forward.
According to Peter Rosenberger, "Standing With Hope is working to create a sustainable infrastructure, Standing With Hope's innovation and ongoing prosthetic limb outreach is helping change lives - one leg at a time."
About Standing With Hope
After emerging from a horrific car accident that eventually claimed both of her legs, Gracie Rosenberger determined her tragic circumstances would serve as an opportunity to reach others. Although her surgery count has soared to 78 operations and crested $9 million in health care costs, she remains steadfast in helping her fellow amputees literally stand with hope through the evangelical prosthetic limb outreach she founded with her husband, Peter.
Making it a true "family" business, the Rosenberger's youngest son, Grayson, contributed his award winning design of using recycled Bubble-Wrap to help provide a cosmetic covering for each of the below-knee limbs. Grayson won the 2007 Grand Prize for Sealed Air Corporation's first annual contest for middle-school students to create a new use for the packing material. Traveling to Ghana on several different occasions, Grayson, now a West Point cadet, trained the local prosthetic technicians on how to build his design - which is still provided for each new patient.
You can listen to Peter Rosenberger every week live on his radio program THE PETER ROSENBERGER SHOW on Nashville's 1510 WLAC (Clear Channel/I Heart Radio) or podcast at http://www.caregiverswithhope.com.