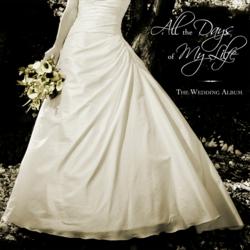 While the album features many classic songs, this compilation of Vicente's performances of them could well become a classic in itself.
Los Angeles, CA (PRWEB) June 04, 2013
Pianist and composer Vicente Avella releases "All the Days of My Life: The Wedding Album". Produced by Windham Hill founder and Grammy Award winner William Ackerman, this recording gives contemporary expression to the timeless wedding classics. CD's and digital downloads now available on iTunes, Amazon and CD Baby.
A response to a current void existing in the music available for weddings, "All the Days of My Life" is an album that embraces both the traditional and the contemporary. This recording found its inspiration in an ever-growing need for music that, simply put, gives current expression to the traditional wedding classics. Avella explains "I kept finding that brides and grooms loved the timelessness of the classics but that, at the same time, they really wanted music that spoke today's language; their language". Keep in mind that the modern language he is referring to is not that of synthesizers, hip hop beats, and electronics, but rather that of a present day perspective on classical compositions performed on solo piano in a style that brings to mind George Winston, Jim Brickman, David Lanz and many of the Windham Hill artists.
Avella has taken some of the world's most beautiful music, compositions beloved for their role in weddings over the centuries, and created highly original interpretations of these. Kathy Parsons of Mainly Piano calls it "an impressive project" and "a welcome addition to wedding music repertoire". The album includes Avella's arrangements of music by Bach, Pachelbel, Wagner, Beethoven, Schubert, Vivaldi and Mendelssohn as well as several of his own original compositions.
Conceived for weddings and inspired by Avella's own wedding, this album is ultimately a personal expression of love, a collection of solo piano music that reveals the beautiful, intimate and romantic side of these timeless classics. William Ackerman, the legendary New Age artist and producer says, "conceived as the soundtrack of a contemporary wedding, 'All The Days Of My Life' is, of course, perfect for weddings, but is so original in the arrangements of even traditional wedding music that the album is a joy on any day."
"One of the words that come to mind in describing Vicente's musical sensibilities is: tasteful," says Michael Diamond of Music and Media Focus. He goes on to say, "while the album features many classic songs, this compilation of Vicente's performances of them could well become a classic in itself. The marriage of these timeless melodies with the skill and sensitivity of an instrumentalist like Vicente Avella is a match made in heaven."
Mr. Avella has been writing and performing internationally since 1998. The Boston Globe described his composition work as "good taste unto genius". He has scored numerous independent films, orchestrated and worked on music production for major network television shows including Family Guy (FOX) and American Dad (FOX), and written music for worldwide advertising. His music has received multiple accolades.
To find out more visit: vicenteavella.com