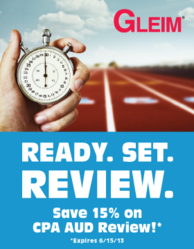 Almost all the new standards are effective for periods beginning after December 15, 2012. Thus, the Clarified Standards are eligible to be tested on the CPA exam beginning in July, which is the third window of testing. Garrett Gleim, VP of Gleim.
Miami, FL (PRWEB) June 03, 2013
CPA candidates are buzzing about the changes to the Auditing and Attestation (AUD) section of the CPA exam. With the replacement of the existing standards with the Clarity Standards, the content of the CPA exam has changed considerably. Candidates who are preparing to sit for AUD on or after July 1, 2013, should use the Gleim Q3-Q4 edition Review book and online materials, which have been updated to reflect the changes necessitated by the Clarity Standards.
The Clarity Standards Project was undertaken by the AICPA Auditing Standards Board (ASB) to simplify the standards and make them more consistent with International Auditing Standards. The standards were redrafted into a new Codification of Statements on Auditing Standards. One of the biggest changes candidates will notice is the new five paragraph audit report. The auditor's report now requires separate paragraph headings to distinguish "Management's Responsibility for the Financial Statements" from the "Auditor's Responsibility." Another difference between the old Standards and the Clarified Standards is in the formatting; each new Standard is formatted as follows: introduction, scope, effective date, objectives, definitions (if relevant), requirements, and application and other explanatory material.
Gleim strongly recommends that all candidates from now on prepare only with the materials written for Q3-Q4. CPA candidates can save 15% on Gleim CPA AUD Review through June 15, 2013. The Gleim Review System features one of the largest test banks in the industry, containing thousands of AICPA-released questions from past CPA exams. Each multiple-choice question and simulation has been reconsidered and updated where appropriate to reflect the Clarity Standards. In addition, every component of the Gleim CPA Review System offers candidates the benefit of experiencing very realistic Prometric emulations. Candidates who study with Gleim will be familiar with the CPA exam's formatting and functionality for both multiple-choice questions and the simulations.
The Gleim CPA AUD Review Q3-Q4 edition is available for shipment now. Save 15% on Gleim CPA AUD through June 15, 2013. Candidates can try the Review System before purchasing by visiting the Gleim CPA demo page.