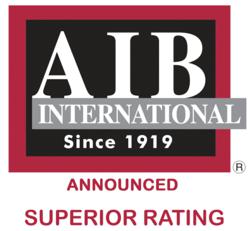 Quality and safety have always been paramount to us at Aiya
Torrance, CA (PRWEB) June 04, 2013
Aiya America, the world leader in Matcha green tea, is proud to announce that it has once again received the Superior AIB (American Institute of Baking) certification. Awarded to those manufacturers who meet only the highest standards in food processing, food safety, and production technique, this is the seventh year running for Aiya to receive this prestigious certification. Aiya holds itself to the highest standards in production and quality and AIB's rigorous certification process is one of the few fastidious enough to verify and reflect Aiya's impossibly high benchmarks. As such, Aiya has been undergoing and will continue to undergo third party quality audits.
Fumi Sugita, Aiya America's General Manager, commented on receiving the AIB certification again, saying: "Receiving a Superior Rating of 945/1000 is an honor and one of the many ways in which our customers can be assured of our dedication to quality. I am very proud to say that Aiya is the only Matcha company to receive this certification this long running."
Touching on customer safety and the state of the Matcha industry in North America, he continued: "Quality and safety have always been paramount to us at Aiya. In recent years, it has been exciting to see how well Matcha is being received across all of North America. Everyday more and more cafes are adding Matcha lattes, smoothies, and straight Matcha to their menus, making it one of the fastest growing tea drinks as well as vastly increasing the visibility of Matcha in the marketplace.
"With that increased visibility, unfortunately, we've also seen Matchas originating from other regions making their way into stores too. With Matcha, the manufacturing process is very important in guaranteeing high quality in the finished product. Some of the Matchas we've seen and tried on the market are lacking high quality standards and in fact are not even genuine Matcha at all. We at Aiya recognize that Matcha is more than tea – it is a key food ingredient used in many industries and it needs to be produced with those standards in mind. When a company can provide a prestigious certification such as the AIB Superior Ranking, its customers can have the peace of mind to know that the product is genuine, manufactured properly, and only of the utmost purity. As the world continues to globalize, knowing the origin of products and having quantifiable quality certifications for them is an absolutely necessity."
Aiya America
Aiya America is a US branch of Aiya Co. Ltd., Aiya is the world's #1 manufacturer of premium Matcha green tea with over 40%, 60% and 70% market shares in Europe, Japan and North America respectively. For more than a century, Aiya has grown and manufactured the purest and highest of quality Matcha for the world to enjoy. Known for its innovation, consistent quality and safety, Aiya's mission is to share Matcha green tea and good health through the global education of its tradition and history. More information is available at http://www.Aiya-America.com.
Media Contact:
Fumi Sugita
General Manager - Aiya America
(310) 212-1395
fumi(at)aiya-america(dot)com