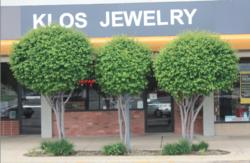 Springfield, Illinois (PRWEB) June 03, 2013
Aumann Auctions, Inc. (http://www.AumannAuctions.com) announces the complete retirement liquidation online only auction of Klos Jewelry Store ending July 11, 2013, according to Thomas Walsh, Auction Manager. "We are very excited to bring the inventory of Klos Jewelry Store to auction," said Walsh. "The owner, Jim Klos, has decided to retire and has entrusted Aumann Auctions, Inc. with the task of selling his pristine collection of pocket watches, wrist watches, antique clocks along with his inventory of fine jewelry, precious stones, coins and currency, store fixtures, rare antiques and neon signs."
Jim Klos has been in the jewelry business for almost thirty-five years and has experienced the ups and downs of being a business owner in the ever-changing economy. Even during the down times, Jim has always been an ethical business owner. In April, Jim purchased a ring from an individual and come to find out, it was the stolen 1960 World Series ring that belonged to Dick Schofield. Without any consideration of the money he lost by purchasing the ring, he immediately contacted Schofield to return the ring to the rightful owner. This is just one example of the person Jim is and how he ran his business.
The online-only bidding is now open for Klos's life-long timepiece collection, fine jewelry, diamonds, coins and much more. Walsh explained that the inventory is split into two different ONLINE-ONLY auctions both ending on July 11, 2013 with staggered ending times. For more photos, item descriptions, terms of the auction and bidding registration visit: http://www.AumannAuctions.com.
Aumann Auctions, Inc., a MarkNet Alliance member, is a full service auction company that is very diverse with over 50 years of experience in the auction business selling land, real estate, business liquidations, personal property and much more. The company credits its success largely to referrals and repeat business with satisfied clients. Aumann Auctions works nationwide and provides clients with a local and national presence, cutting edge technology, unmatched base of proven bidders and worldwide exposure through strategic marketing.
To learn more about this important liquidation, please visit http://www.AumannAuctions.com or contact Thomas Walsh at Thomas(at)AumannAuctions(dot)com. The toll-free phone number is (888) 282-8648.
Aumann Auctions, Inc. - 20114 IL Rt. 16 - Nokomis, IL 62075