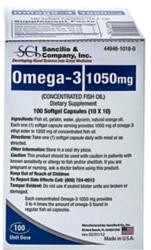 "We continue to develop distinctive and innovative, trend-setting products and packaging that meet and exceed consumer expectations," said Frederick D. Sancilio, Chairman a
Riviera Beach, FL (PRWEB) June 11, 2013
Sancilio and Company, Inc. (SCI), a leader in Advanced Lipid Technology and improvements of Omega-3 essential fatty acids, announces the availability of Unit Dose Omega-3 packaging.
The Omega-3 Unit Dose features blister-format packaging, is pre-barcoded and contains the highest concentration of the Omega-3 essential fatty acids EPA and DHA on the market today with or without a prescription. SCI's Omega-3 unit dose products are available to hospitals, eldercare communities, clinics, urgent care centers and other healthcare related facilities and are ordered through group purchasing organization (GPO) contracts.
These pre-barcoded products help manage formulary needs at a patient's bedside, making dispensing and managing patient charges time efficient and convenient. SCI's Unit Dose will replace facilities' current method of individually packaging Omega-3 products, which eliminates the mess and smell current blister packaging systems experience.
SCI's Omega-3 Unit Dose is available in the following forms: Omega-3 1050 mg Unit Dose (full sized softgel capsule), Omega-3 MiniCap©, Omega-3 MiniCap© + Vitamin D3 containing 1,000 IU of Vitamin D3. The MiniCap© products are 1/3 of the full size softgel capsules and contain 350 mg of Omega-3 per serving. All three options are available in 100 count (10 x 10) barcoded blister packages. For more information on where to order the Omega-3 Unit Dose, contact Sancilio and Company at 1-800-SCI-8711.
About SCI
Sancilio and Company, Inc. is a vertically integrated pharmaceutical company focused on the development, manufacture and sale of cardiovascular, dental and women's health products. In addition to providing consulting services, SCI operates sophisticated analytical, development and scale-up laboratories, as well as state-of–the-art soft gelatin capsule, tablet and liquid manufacturing lines, in its Florida-based facilities.
SCI's products include Ocean Blue® Professional Omega-3 2100™, which contains 2,100 mg of Omega-3 per serving, chewable and liquid prescription sodium fluorides, and prescription prenatal vitamins. Additional information about SCI can be found on the web at http://www.sancilio.com and http://www.oceanblueprofessional.com.