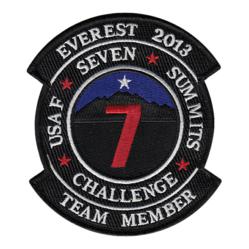 Up, up the long, delirious, burning blue
I've topped the wind-swept heights with easy grace.
Where never lark, or even eagle flew.
-- Poem "High Flight" by John Gillespie Magee, Jr.
Jacksonville, Florida (PRWEB) June 04, 2013
Aviator Gear is proud of the opportunity to donate custom embroidered patches to the USAF 7 Summits Team. These U.S. Air Force members have carried the American and USAF flags to the highest points of each continent, ending atop the highest point on Earth. On May 19th, they became the first team of active duty American military members to reach the summit of Mt. Everest. The USAF 7 Summits Challenge is dedicated to positively highlighting the U.S. Air Force, building esprit d 'corps among Airmen, and honoring comrades who have fallen in the line of duty.
Starting seven years ago, the USAF 7 Summits Challenge has successfully climbed Mt. Elbrus in Europe, Mt. Kilimanjaro in Africa, Mt. Aconcagua in South America, Mt. McKinley in North America, Mt. Vinson in Antarctica, Mt. Kosciuszko in Australia and now Mt. Everest in Asia.
The USAF 7 Summits Challenge is significant to Aviator Gear founder Cory "Trap" Bower, a graduate of the USAF Academy who has served over 21 years as a pilot in the USAF. Cory says, "I am glad Aviator Gear could help recognize the amazing achievement of these hard-core Airmen and their tribute to those who have died in service to our nation." Aviator Gear CEO Amanda Bower adds, "We're proud to promote groups that give back to our military and their families."
About Aviator Gear
Since 2005, Aviator Gear has designed and created custom products for military flying squadrons and aviation companies across the globe with a vision to provide the very best secure, dependable, online experience. Aviator Gear offers a streamlined, error-free, on-time process for delivering high-quality products with great design. They are military experts dedicated to customer-focused service and quick responsiveness, coupled with deep, accurate knowledge of the military rules, regulations and heraldry guidelines.
Aviator Gear is a Woman-Owned Small Business (WOSB) with Historically Underutilized Business Zone (HUBZone) certification. The company is headquartered in Jacksonville, Florida.