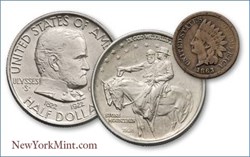 (PRWEB) June 05, 2013
New York Mint®, a leading source and direct marketer of high-value collectible coins, is aligning with the film Saving Lincoln, along with the film's writer/director Salvador Alex and producer Reuben Lim, to promote the film's upcoming DVD and Blu-Ray release to offer movie-goers, supporters, and Civil War history buffs an opportunity to own a piece of this era.
New York Mint will feature authentic Civil War coins and currency from both The North and The South. These unique pieces will be highlighted on the Saving Lincoln website (http://www.SavingLincoln.com) and its Facebook page, coinciding with the thousands of stories shared from Americans whose family ancestors participated in the War Between the States. These coins and commemorative pieces are rich in American history and align with this unsettling time in our nation's past. A time superbly portrayed in Saving Lincoln, a story told from the unique perspective of Abraham Lincoln's trusted friend and bodyguard, Ward Hill Lamon, who worked tirelessly to keep the 16th President of the United States safe from harm's way.
"We are thrilled to have the opportunity to partner with Saving Lincoln and to support a film that is rich in history; and is set in real Civil War photographs, further emphasizing the events that forever changed our nation. Our coin and commemorative products complement this time in history and allows fans and followers of the film to own their own piece of American history," said New York Mint President Bill Gale. The relationship debuts on June 4, 2013 in conjunction with the announcement of the film's release on DVD and Blu-Ray.
About New York Mint®
Since 1984, New York Mint, LLC has been a private distributor of coin and currency issues and privately issued licensed collectibles. New York Mint provides collectors with one-stop access to some of the finest quality, rarest and most sought-after coins from worldwide government mints, shipwrecks, ancient hoards and exotic locales. The treasures secured by New York Mint span historic eras from ancient times, through the American Civil War, and up to the most contemporary milestones and events. New York Mint partners with the Smithsonian Institution®, government mints and monetary authorities, distributors and wholesale dealers worldwide. Recently, they were U.S. distributors for the London 2012 Olympic Games Coin Program. For additional information, visit http://www.NewYorkMint.com or call 800 642 9160.
Source: New York Mint
Contacts
Business Development: Sara Fehrenbacher sfehrenbacher(at)amsi-corp(dot)com + 1 952 707 7296