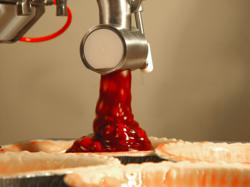 My guys love Unifiller's equipment so much, it takes us half the time to prep cakes now!
Vancouver, BC (PRWEB) June 05, 2013
Remember 1988? That was the year of acid washed jeans, shoulder pad blazers and hit songs like "Hungry Eyes". It was also the year Unifiller Systems opened for business in North America and sold their first depositor. This year, Unifiller celebrates 25 years of providing innovative and easy to use depositing, decorating and filling solutions.
Founded in 1988 by three partners, Kuno Kurschner, Stewart Macpherson and Benno Bucher, Unifiller Systems is a leading manufacturer of portioning equipment for the food processing and bakery industry worldwide. The company aims to help streamline food production by providing solutions for achieving greater yield, greater weight accuracy, increased cost management and better product integrity.
With over 80 employees at their head office in Delta, BC, Unifiller Systems is as culturally diverse as an organization can get. From Korean, Filipino, Indian and Chinese to European, Spanish and Arabic, almost every culture is represented around the lunch table. Over 20 different languages are spoken.
Unifiller is fast becoming a recognized global player in the food production industry. Recent expansions include global offices in the United Kingdom, Germany and Spain servicing European nations, and a dealer network representing key markets in Latin America, Asia, and Africa. The company is a regular exhibitor at IBA World Market for Baking, held every 3 years in Germany and the International Baking Industry Exhibition held every 3 years in Las Vegas, including this year's show at booth 7207. Business has been booming with recent installations including cake and dessert lines in bakery plants in India, Korea and even the far regions of Mongolia!
Even with 25 years under its belt, Unifiller is still rolling out innovative new machine concepts. Last year, marked the introduction of several state-of-the-art machines from Unifiller including the Multistation depositor, a high speed multi depositor featuring consistent portion control from each outlet, touted as five times faster than gearwheel depositors. Other advancements included the development of the Pro2000 Low Level with Agitator, a food filler with agitators, for large volume depositing of chunky & stiff products ensuring even distribution of particulates; and the official launch of cookie dough depositor machines, available in three models for retail, commissary and large volume production.
Unifiller's also been garnering some celebrity status as of late. Most recently Unifiller has partnered with Carlo's Bakery, from TLC's Cake Boss. Stewart Macpherson, VP at Unifiller Systems spearheaded the partnership. "We're very pleased to take on Carlo's Bakery as one of our customers. It's a strategic partnership. They're seeing tremendous growth and we're proud to be their provider of choice." According to Buddy Valastro of Carlo's Bakery "My guys love Unifiller's equipment so much, it takes us half the time to prep cakes now! We're a busy bakery, we need equipment we can rely on. I love the simplicity of Unifiller's equipment, it's easy to use, fast, and easy to clean."
Want to see more about Unifiller? You only need to check out Food Network Canada's Food Factory, including an episode featuring La Patisserie filling 250,000 mini cheesecakes a year with a Unifiller depositor. Another episode featured Tastefully Yours Bagels starring Unifiller's multipiston depositor injecting 150 Bagel-Os every hour with cream cheese filling. According to the episode, the Unifiller is Bagel-Os most important ally and secret weapon! Social media participation has also generated additional engagement within the industry via viral videos including videos showcasing the depositor's versatility – underwater! And a parody of James Bond's License to Kill – License to Fill!
So, what's up next for Unifiller? Unifiller will be celebrating their 25 year anniversary with an open house for employees, their families and key guests in the summer. Mini-celebrations will occur throughout the year.
Finally, remember that first depositor sold in 1988? Well, because of Unifiller's commitment to the long term success of its customers, it's still in use today!