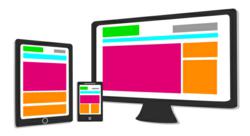 61% of customers who visit a mobile unfriendly site are likely to go to a competitor's site.
Raleigh, NC (PRWEB) June 04, 2013
Due to being an experienced Raleigh web design and software development company, Imaginovation understands the new web trends and what customers nowadays are expecting when inquiring for a website or application. In turn, Imaginovation have become "Responsive" when designing and developing online products because the reality is that a website needs to accommodate all mobile devices and browsers to maintain a company's brand positioning. For those who don't know, "Responsive Web Design" is the new thing in the online market; it is a method of developing a website or online software application so that it automatically adjusts to the screen size and device used to view it.
Imaginovation was absolutely aware that responsive design was becoming a necessity for all their clients; however the cost-benefit analysis for implementing such functionality was lower before than it is now. Furthermore, companies now appreciate the value in which their website or application has when it is catered to all mobile devices and all browsers. The competitive edge it brings to their brand is priceless because of the fact that there are 84 million smartphone users (that's 35% of all adults), and the consistency and user-friendliness it brings to their customers.
The fact that this innovative Raleigh website design company has been implementing responsive designs for their customers since January 2013; they have determined three key components that this new technology brings to the table. First, as previously mentioned, this type of design helps websites and web applications scale to desktops, notebooks, tablets, and smartphones. Second, it consolidates traffic for better search engine optimization (SEO) results because it has one URL for all devices. Thirdly, this new design technology caters to 112.5 million US consumers who will own a tablet by 2016, which is one-third of the US adult population.
Imaginovation plans to take full advantage of future enhancements to web browser capabilities such as creating media queries based on bandwidth, date, and time. For example, depending what season it is or time or date, they would display a different theme or even website (i.e. moon and a night sky after dusk, and sun and clouds in the morning).
Visit http://www.imaginovation.net to learn how they are an authority in responsive web design or just in need of an online boost or capability.