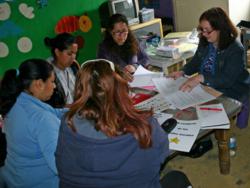 When you educate a child, you really can change the world.
Camarillo, CA (PRWEB) June 03, 2013
Education Project International (EPI) the not for profit group committed to eliminating poverty through education has partnered with Estrellita, the organization who has developed the successful early reading program by the same name. Together the two organizations will work together to implement literacy initiatives in Mexico.
The first program will be put into practice at Manitas de Angel kindergarten in the community of Reforma just south of Tijuana, Mexico.
"Literacy is key to educational success and oftentimes success in general in Mexico," said Rick Froehbrodt, director and founder of EPI. "Estrellita'a program is a proven winner, so this partnership just made sense."
Implemented in more than 2,500 schools in the U.S., the Estrellita program is a proven, systematic approach to teaching Spanish syllables, an important precursor to reading. In the U.S., it is used for Pre-K through 1st grade students in bilingual and dual language classrooms many times as a bridge toward learning English. Based on scientific learning and reading principles, Estrellita is designed to be an accelerated program and fits well into the early education model currently present in Mexico.
"Estrellita will give young children a significant advantage by providing them the opportunity to be in the early stages of reading by the time they enter first grade in Mexico," explained Froehbrodt. "Kids can show up with confidence and higher self-esteem, something that is essential for success in school."
Estrellita is providing both funding for the centers as well as the Spanish literacy program materials and training for EPI teachers.
"We are very excited to be involved with EPI in this project," said Estrellita Founder and President Karen Myer. "Estrellita has always been about the children, starting with the development of the program in my classroom to our current partnership with EPI. Now we have an opportunity to improve the lives of a community and increase literacy for all ages."
As the sole financial supporter of Manitas de Angel, a school with approximately 50 children whose families live in extreme poverty, EPI strives to give the children the support they often lack at home that is critical to their academic success. With a vast majority of parents being illiterate or at best with minimal education, children often don't have resources at home to help them succeed in school ultimately perpetuating a cycle of illiteracy and poverty, which have been linked in numerous research studies.
EPI and Estrellita plan to broaden the combined program to other centers in Mexico in upcoming years.
"Estrellita is helping us to strengthen the education of the children EPI serves," said Froehbrodt. "We are more than eager to expand this program to other schools because we both believe that when you educate a child, you really can change the world."
About Estrellita:
Estrellita is a complementary, accelerated, beginning Spanish reading program for Pre-K through 1st grade students in Bilingual and Dual Language classrooms. Based on scientific learning and reading principles, Estrellita provides multisensory, in depth instruction in phonemic awareness, phonics and fluency. For over 20 years, and in over 2500 schools nationwide, Estrellita has been utilized in Pre-K, Kindergarten, and 1st grade classrooms successfully. For more information, visit estrellita.com.
About Education Project International:
Education Project International (EPI) is a non-profit organization whose mission is to eliminate poverty through education and opportunity. More than 100 million children around the world are unable to attend school, and EPI is committed to assuring that children are able to receive the education they deserve. For more information, visit EdProject.org.