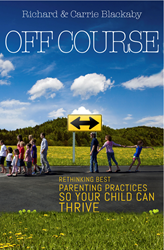 "This book is about having the courage and creativity to challenge conventional wisdom and customizing your childrearing to suit each child to help them thrive."
Boise, ID (PRWEB) June 24, 2013
Off Course, to be released by Russell Media late fall 2013, teaches parents that, when dealing with children, the status quo is not always the best way to go. This book challenges parents to have the courage and creativity to rethink conventional wisdom and customize their childrearing to suit each child's particular needs. Informative content that challenges societal normality packs the pages.
God takes great delight in creating unique individuals, so why do we teach our children to conform and be compliant? Off Course will open eyes to the realities of so-called best parenting practices.
Carrie Blackaby holds a BA in English from North Greenville University where she graduated Summa Cum Laude and was awarded the Veda B. Sprouse award for the most outstanding English student. She is currently working on an MFA in Creative Writing from Converse College and an M.Div in Christian Apologetics from New Orleans Baptist Theological Seminary.
Dr. Richard Blackaby has served as the president of Blackaby Ministries International since July 2006. Richard is the oldest child of Henry and Marilynn Blackaby. He and his wife, Lisa, have been married since 1983 and reside in Greenville, South Carolina.