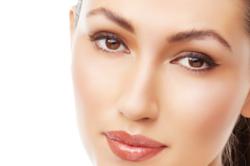 My hope is that this blog post will help patients make better decisions regarding their personal skin care products
Newport Beach, California (PRWEB) June 18, 2013
"These products may hide wrinkles and fine lines while adding a shimmering glow, but it might be best to avoid them completely as excessive use of these skin care products may actually increase the amount of wrinkles a woman has on her face," Dr. Sadati noted.
These golden products have increased in popularity during the last several years as more people turn to self-tanning products and shimmering bronzers to add a healthy, glittering shine to their skin. The results of the study, however, show that people should think of other ways to rejuvenate their appearance. It was performed by researchers at Stony Brook University, research titled, "Gold nanoparticles cellular toxicity and recovery: Adipose Derived Stromal cells," published in Nanotoxicology journal, on February 8, 2013.
Essentially, the researchers discovered that the gold particles found in these products will speed up the aging process as well as increase the amount of wrinkles on a person's face. In addition, these same gold particles are known to interfere with the healing process, prevent healthy fat storage and possibly influence the start of diabetes.
Dr. Sadati offers some advice for Orange County patients who are concerned about the findings of the study:
Everyone who purchases make up, skin care products or bathing products should read the ingredient list before they make their final selection. If there are gold or gold particles in the product, it will be listed on the label. For the most part, people should choose products that contain natural ingredients as these will be best for any type of skin.
Spend time researching new products that come on the market and watch for news about the skin care industry. People who stay informed are more likely to make educated choices and have a better understanding of what products are best for their skin, and which ingredients they should avoid when making a selection.
Opt to have a non-surgical facelift procedure performed. As an expert in the industry, Dr. Sadati can complete a non-surgical facelift in as little as one hour. This procedure requires the surgeon to use dermal fillers and inject them into the patient's face. The skin can then be manipulated in order to reduce the appearance of wrinkles and fine lines. The results are immediate, and there is virtually no recovery time associated with this procedure. Patients who have a non-surgical facelift, often, don't need to invest in as many skin care products because their face looks naturally young and vibrant.
"My hope is that this blog post will help patients make better decisions regarding their personal skin care products," announced Dr. Sadati.
Patients are encouraged to contact Dr. Sadati's office in order to set up a free cosmetic consultation, where they can receive further information about the non-surgical rhinoplasty procedure.
For more information about any procedures, contact Dr. Sadati's office today.