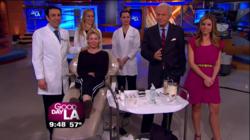 Los Angeles, California (PRWEB) June 01, 2013
According to data from International Society of Plastic Surgeons published in a May 24, 2013 article from The Atlantic, titled "The K-Pop Plastic Surgery Obsession," one in five women in South Korea have cosmetic surgery performed, compared to the ratio of one in 20 seen in the United States. Korean women equate being beautiful with economic and professional success leading to a decades long boom in cosmetic surgery procedures (Go to goo.gl/IIUs1).
"I am in the beauty business and I appreciate the desire to look one's best," says Dr. Simon Ourian, Medical Director of Epione Beverly Hills. "But I would not recommend that any patient change their features to the point where they no longer resemble their old self. That's not the type of work I do."
According to the article, K-Pop culture has become an added factor to consider. A new beauty trend has arisen with a perceptible nod to Caucasian features without replicating them entirely. Girls Generation and WonderGirls, two popular groups in South Korea, both feature women with lustrous skin, pointed chins, wider cheeks, small faces, cute noses and large eyes. Double eyelid surgery and rhinoplasty have become wildly popular in South Korea often is usually given as a gift to graduating schoolgirls.
The report goes on to say that workplace standards are even more demanding for South Korean women than they are in other countries. In most cases, job applicants are required to submit a "head shot" along with their resume. Would-be employers scan through the applicants in search of the perfect employee based on attractiveness and qualifications. Following the 1997 economic crisis, surgery boomed because people sought the help of cosmetic procedures to improve their chances in the job market.
"As I understand it, Korean culture continues to shift and evolve," says Dr. Ourian. "Perhaps one day, the pressure to have surgery to accord with a specific beauty ideal will diminish."
Dr. Ourian has been a pioneer in laser technology and non-invasive aesthetic procedures including Restylane, Juvéderm, Radiesse and Sculptra. These treatments are used for the correction or reversal of a variety of conditions such as acne, acne scars, skin discoloration, wrinkles, stretch marks, varicose veins, cellulite, and others. More information about rising demand for plastic surgery can be found on Epione's website.