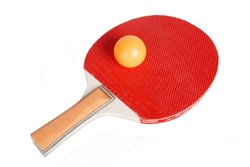 Long Beach, California (PRWEB) June 25, 2013
Broadview Mortgage has donated a brand new table to the Special Olympians in training at the VA Hospital in Long Beach. The previous table had been vandalized.
"To us it may only be a ping pong table, but to these veterans training for the Special Olympics it is much more," said Chris Apodaca, Assistant Director of Branch Development for Broadview Katella.
There are limited activities available to disabled veterans that are recovering from injuries. With the only table tennis equipment damaged, those activities are now even more limited.
"The goal here is not for us to pat ourselves on the back for a good deed, not at all. The goal here is for other businesses, large and small, to support the VA Hospital in Long Beach," said Apodaca.
With the recent "sequester" budget cuts, the Department of Veterans Affairs has seen drastic cuts to essential operations costs, which leaves little to no funds for social programs. As the needs of the VA Hospital's staff and volunteer services increase, they are becoming more dependent on private donations.