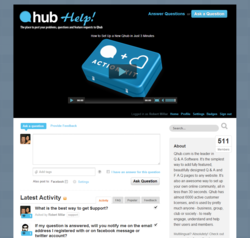 So how is your average entrepreneur going to really reach out and engage their customers while looking professional and capable? Facebook? I don't think so.
Tokyo, Japan (PRWEB) June 07, 2013
While 'Abenomics' (the catch phrase used to describe current Prime Minister Abe's somewhat radical economic initiatives) finds polarized opinions among thinkers and everyday people alike on the streets of Japan, Qhub.com CEO Robert Millar busies himself at his desk in Tokyo brushing economic naysayers aside and localizing his Q & A software product for what he believes will be an influx of Japanese small to medium businesses from an Internet savvy but somewhat service starved economy.
"Everyone knows that Japan's economic and political climate changes constantly. Just look at how often the Prime Minister changes! But that's no reason to ignore the incredible population of tech savvy small to medium business owners and regular people who I believe can really benefit from cloud based software services like ours to increase their revenue. So frankly, I'm more concerned about the actual climate than the economic climate!" quips Millar, referring to his arrival in Tokyo 3 days before the 2011 earthquake and tsunami.
"We're more than happy working in Japan," Millar states, "and we believe the Qhub product is better than any similar Q & A system on the Japanese market today. We've looked, and unless you want a costly enterprise level solution from someone like Oracle, there just isn't anything else around in Japanese."
His team recently replicated their English sales site in Japanese, fully localized their Qhub software in Japanese, and set up a new Japanese support team to provide live chat to Japanese Qhub customers right from within the software itself, just as they already do for non-Japanese customers.
"I don't know of any web based software like Qhub that gives you access to local support people to help you get the most out of your subscription," Millar says. "Nobody likes auto-responders and contact forms, and they just don't work. So how is your average entrepreneur going to really reach out and engage their customers while looking professional and capable? Facebook? I don't think so."
Qhub was founded in the UK in 2004 by the successful pioneers of online Q & A sensation Blurtit.com, and Millar purchased the company in mid-2012. Its registered office is now in sunny Queensland Australia, however the day-to-day operations of Qhub are conducted out of their Tokyo office in the up-market neighbourhood of Denenchofu.
"Of course we still maintain our Brisbane office and our contacts with our friends in the UK, but Tokyo is where it all happens," Millar smiles.
Qhub will be doing press releases with local distribution houses and also doing stage presentations at various tech spots in Tokyo over the next few months.
-----------------------------------------------------------------------------------
Qhub.com markets itself as the leader in Q & A Software. It's the simplest way to add fully featured, beautifully designed Q & A and FAQ pages to any website. It's also a great way to set up your own online community, all in less than 30 seconds. Qhub has over 6000 active customer licenses, and is used by pretty much anyone - business, group, club or society - to really engage, understand and help their customers and members.
Robert Millar was also the founder and CEO of successful IT outsourcing and recruiting firm Zeros And Ones Japan Limited in Kawasaki City, which he sold to India's Simplex Solutions in 2007.