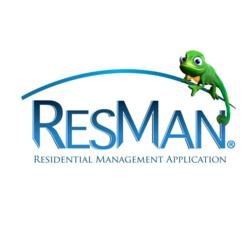 Plano, TX (PRWEB) June 06, 2013
ResMan®, a cloud-based residential management solution, officially launched at this year's Texas Apartment Association Annual Education Conference in April and has received great reviews. Developed by over 50 tenured multifamily management professionals, ResMan® has evolved over the last 13 years from a desktop application to a progressive SaaS (Software as a Service) solution specifically designed for residential property managers and owners. ResMan® gives multifamily professionals and their associates the ability to make better, faster decisions and access information from virtually anywhere, anytime.
"The recession not only brought about tough economic times, it also revealed an industry need to re-evaluate existing management programs utilized to measure and manage operational activities. Ensoware's team set out to take on the challenge," stated Nick Olsen, Vice President of Development.
Over the last 4 years, ResMan® progressed from a desktop application to a cloud-based system. The best and brightest programmers were hired to work side by side with result oriented management professionals to develop ResMan®, a cloud-based operations and accounting application. The development team had access to feedback directly from individual users, which provided them a unique understanding of the time restraints and pressures on the front line, as well as challenges between operations and accounting teams. Beta tests of the cloud application were completed on assets managed by the owners and developers of ResMan, as well as select individuals retained to measure achieved results utilizing ResMan®.
"The dedication to the end user is evident in the user interface and support options provided to the customer free of charge. After operating in this space for several years, I recognized the significance of the product and the potential impact on the industry and thus made the decision to become part of the solution" stated Phil Rodgers, Vice President of Operations.
Lack of options, concerns over cost and fears over implementation have resulted in multifamily professionals settling for software that does not meet their needs. ResMan® eliminates those fears and concerns by providing affordable, transparent pricing options and an implementation process designed to achieve customer satisfaction.
ResMan® enhances the natural work flow unique to the property managers and landlords by providing a software solution that:

is based on innovative technology,
is truly browser agnostic,
is easy to learn and implement,
works in a multigenerational environment,
is based on management best practices,
promotes growth for management and supplier partners alike, and
delivers a highly intuitive, all-encompassing solution to meet both operational and accounting needs.
Ensoware's executive team members and national sales associates are committed to local, state and national apartment associations through sponsorships and committee membership. ResMan® has offices in Plano, Texas and Provo, Utah and can be found online at http://www.iwantresman.com or http://www.resmancloud.com. Customers interested in obtaining more information will be able to see a demo of the product at the 2013 NAA Education Conference & Exposition in San Diego, California, or they can contact Debra Cambron directly at 1-855-ResMan1 (1-855-737-6261).
Follow us on YouTube.