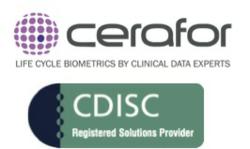 If companies preparing a filing for the EMA have not already adopted CDISC standards, they need to start the process now.
(PRWEB UK) 3 June 2013
Over the last decade, the introduction and acceptance of CDISC standards across pharma and biotech industries has seen major shifts in how data is viewed within clinical trials.
With both industry and regulatory agencies moving ever closer on the need for interoperability, transparency, traceability and auditability of data from source through to analysis and submission, there has been a step–increase in the standardisation of clinical trial data, for legacy and new studies.
Following on from FDA announcements that they will require submissions to the FDA to follow CDISC standards from 2016 (with a two-year grace period), the EMA has provided further guidance on its position on requirements for electronic submissions, and as widely expected it too will be encouraging the adoption of CDISC standards for submissions to the EMA.
Speaking on the developments, Stephen Bamford, Executive Director, Cerafor, commented: "The changes over the last few years have been dramatic in terms of demand for CDISC-compliant studies and submissions. Whilst much of the industry focus has been on requirements for submissions to FDA, understanding what is happening in Europe and the EMA's position is now becoming clearer.
"With the Agency expected to issue a draft policy on proactive access to clinical trial data by the end of June 2013 and a final policy by the end of November 2013 we can expect that this will see a further push for CDISC in the European arena.
"Whilst no definitive timelines have been mandated by the EMA as yet, for companies preparing a filing to the EMA, if they have not already adopted CDISC standards, they need to start the process now.
"Cerafor is committed to ensuring that best practices, industry knowledge and expertise are brought to the table. As CDISC standards continue to evolve, Cerafor can provide the full range of CDISC-related activities. From CDASH to SDTM and ADaM through to define.xml and submission-ready packages, Cerafor supports our clients in meeting their drug program goals."
Cerafor's Global Head of Sales and Marketing, Tim Collard, added: "Cerafor is ideally placed to partner with our clients on preparing and implementing a comprehensive CDISC strategy within their organisation. We welcome the opportunity to discuss how the changes in the regulatory landscape are reshaping how data are viewed within companies, the industry and with regulatory agencies."