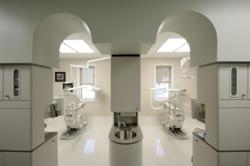 "This building shows that it's not only realistic to build dental clinics and other outpatient medical facilities as Passive House buildings, it's also affordable," said Adam Cohen, founder of Passiv Science.
Roanoke, Virginia (PRWEB) June 03, 2013
Commercial Passive House consultancy Passiv Science announced today that its recently completed dental office project in Roanoke, Virginia has officially become the world's first Passive House dental clinic. The Passivhaus Institut in Darmstadt, Germany bestowed its stringent Passive House certification on the clinic of Drs. Dickey, Singleton, and Lynch, recognizing the project's leadership position among Passive House medical facilities around the globe.
"We're excited about the project," said Passiv Science founder Adam Cohen, "not just for the comfort, healthy indoor air, and efficiency that it brings the clinic, but also for the example it sets."
Health care buildings account for 11 percent of all commercial energy consumption, using a total of 561 trillion Btu of combined site electricity, natural gas, fuel oil, and district steam or hot water. They are the fourth highest consumer of total energy of all building types.
Design and construction of Passive House health care facilities is a powerful and economical way to address the carbon footprint of such buildings. This Passive House dental clinic takes nearly 75% less energy to heat and cool than a conventionally-built one, but was built for a cost equivalent to market rate standard construction.
To accomplish this, Passiv Science focused on constructing an advanced building envelope with low-cost insulation and air sealing that eliminated the need for large expensive mechanical equipment. This allowed the project team to downsize mechanical systems by 70%, saving thousands in construction expense that was reinvested in the building's efficiency features. An energy recovery ventilator, for instance, provides a constant supply of pre-conditioned fresh air to the space, giving the clinic excellent indoor air quality. And a series of passive thermal cooling loops in the concrete slab surrounding each workstation provides a continual source of super-efficient cooling.
"This building shows that it's not only realistic to build dental clinics and other outpatient medical facilities as Passive House buildings, it's also affordable," said Cohen. "And the end product is more comfortable for doctors and patients, cheaper to operate and maintain, and more durable in the long run."
To learn more about the Passive House dental clinic, visit the case study page on Passiv Science's website at http://passivscience.com/case-studies/dental-clinic/
ABOUT PASSIV SCIENCE
Passiv Science guides large-scale Passive House building projects throughout North America, empowering teams with the expertise and integration for success. With offices in Roanoke, Charlottesville, San Francisco, and Toronto, the firm helps bring the comfort, efficiency, durability, and cost savings of Passive House to commercial buildings. http://passivscience.com/