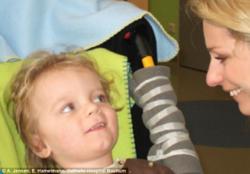 I find it amazing that modern research has been able to provide this boy with a quality of life that he would never have had prior to this treatment.
(PRWEB UK) 6 June 2013
The reports claims that a young boy known only as L.B, had been left in a vegetative state after going into cardiac arrest in November 2008 (1). However, only a few weeks after being given an intravenous stem cell treatment from a frozen sample of blood for his umbilical cord, his symptoms significantly improved and within only a few months he was able to communicate and move around (1).
Asons executive Suzanne Yates commented on this breakthrough saying:
"I find it amazing that modern research has been able to provide this boy with a quality of life that he would never have had prior to this treatment. Cerebral Palsy as extensive as this would have left the boy completely unable to enjoy his life and would have required a lifetime of care. Luckily for him and his family, he will able to grow up a happy child."
The doctors who performed the treatment said that these results will go some way to diminish "long held doubts" regarding people's thoughts and attitudes towards the effectiveness of stem cell therapy, as quoted in the article (1).
The parents of L.B began researching possible treatments for their son after they were told that his chances of survival were minimal after he became paralysed with severe brain damage following his heart attack in 2008 (1).
It has been reported that it was at this point that they came across this procedure, which led to them contacting the Dr Arne Jenson and asking about the possibilities of using their sons frozen blood (1).
The news report states that on January 27th 2009, doctors administered the altered stem cell version of his blood directly back into his veins and began to study the changes in his brain cells at intermittent periods (1). In the following months after the treatment, L.B's symptoms were said to have improved a great amount, with his muscle spasticity decreasing significantly, along with improvements in his speech and movements. Sometime after the procedure, L.B was even reported to have been able to eat without any assistance, walk with the help of another person and speak small sentences (1).
Speaking on the recovery, Doctor Jenson said:
"Of course, on the basis of these results, we cannot clearly say what the cause of the recovery is.
It is, however, very difficult to explain these remarkable effects by purely symptomatic treatment during active rehabilitation."(1)
The stem cell treatment has been monitored in previous studies to now, and it has been shown that the stem cells migrate to the damaged brain tissue causing them to repair themselves, which could give millions of cerebral palsy sufferers and their families hope for recovery, according to the report (1).
Further commenting on this treatment, Suzanne Yates continued to say:
"Cerebral palsy can be a difficult for a family to deal with, especially when it is caused by birthing injuries or the medical negligence of doctors and nurses. The stem cell treatment that has been administered in this instance is allowing families that have been affected by this, to have hope to try and regain the health of their child back. I can only imagine how relieved the family must be!
"With most treatments that take place overseas, the price tag that comes alongside is never cheap, and making a cerebral palsy compensation claim can go a long way towards investing in treatments such as these."
If medical negligence during birth has resulted in cerebral palsy then there may be a strong chance that the hospital involved may be found liable for this damage. By making a cerebral palsy compensation claim, the costs recovered can not only cover the cost of care for the entirety of the child's life, but often a lump sum is also paid out that could potentially go towards treatments such as these.
Asons Solicitors has a team of solicitors that are dedicated to dealing with cases of medical negligence and c erebral palsy compensation that can offer expert legal advice a representation. To find out more information visit http://www.asons.co.uk or phone 01204 521 133.
(1) Herald Scotland, Doctors claim cerebral palsy 'cure', 26/05/2013,
http://www.heraldscotland.com/news/health/doctors-claim-cerebral-palsy-cure.21181174

About Asons Solicitors:
Asons Solicitors is a Bolton-based law practice that specialises in personal injury and industrial disease claims. Founded by brothers Imran Akram and Kamran Akram, Asons Solicitors has developed to become a young and dynamic law firm that delivers practical solutions to clients in times of difficulty. Their continued focus on their staff has seen them awarded with the Investors in People "Gold Award"; which is reflected in the professional and personable approach they take in working with clients. They strive to grow and to develop, and their supportiveness and attention to detail ensures that their clients use them time and again.
For further information contact:
Email: info (at) asons (dot) co.uk
Website: http://www.asons.co.uk