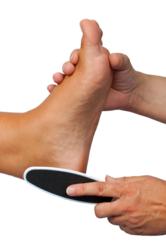 Recent health reports in the UK show that up to 100 people per week have a limb amputated as a result of diabetes…over 80% of them would have been preventable if people had taken care of their feet.
London (PRWEB UK) 3 June 2013
Diabetes is one of the biggest health challenges that the UK is currently facing. This serious condition has led to life shattering complications with heart disease, stroke, kidney failure, blindness, and amputation. Diabetes of the foot is particularly subtle and causes damage to the nerves and blood vessels that serve the limbs. Between £600 million and nearly £700 million is spent each year on foot ulcers and amputations because of diabetes (1).
1 out of 3 people do not even realise when they have this condition and therefore run a great risk of amputation. Recent health reports in the UK show that there are up 100 people per week have limb amputated as a result of diabetes. The sad part is that over 80% of them would have been preventable if people had taken proper care of their feet. If the current rates continue, our amputation rate in the UK will rise to more than 7,000 between 2014 and 2015 in England (2).
To raise awareness of the special care that should be given to the feet of diabetic people, Chemist Direct has a special discount offer on Flexitol Heel Balm this summer. Chemist Direct understand the need for specialised foot care during the summer for those with diabetes. Summer related activities like swimming or walking on warm sandy beaches either barefoot or wearing sandals are normalities during the holidays, but for people with diabetes, these simple activities can be dangerous. Various health associations, like the ADA (American Diabetes Association), have also stated that people with diabetes often have poor circulation and nerve damage in their hands and feet, and may not know when they have a foot injury thus leading to infection, and in more serious cases foot or toe amputation.
If you have diabetes and are eager to make the most out of your summer, then we at Chemist Direct advise you to follow these suggestions to make your summer all it can be, and protect your feet while you're at it.
Maintain a blood sugar level of 70 to 130 mg/dL before your meals and less than 180 mg/dL two hours after you've started your meal, with a haemoglobin A1C level that is less than 7 percent. This can be achieved through regular exercise, monitoring how often and what you are eating, keeping up with medications prescribed by your doctor, and monitoring your blood sugar as often as is necessary for optimal control.
Never walk barefooted. Seashells, glass, or other ocean debris can cut your skin and cause serious infections without you realising it. Walking barefoot on a hot pavement or hot sand can also lead to severe burns or infections. Avoid wearing sandals, as sand and other foreign bodies can still get into the sandal. Podiatrist, Cyaandi Dove, advises all her diabetic patients to choose closed shoes over flip-flops and sandals to give their feet maximum protect. She says: "Insects can still have access to your feet and cause problems with bites and other infections. Rather than saying that you should never wear sandals, I would say that you should be very vigilant when you do wear them."
Be shoe wise. Wearing shoes that are too big or too small can cause blisters or calluses. Measure your feet each time you buy new shoes. It's is normal for adult feet to change sizes four or five times during your lifetime. Weight fluctuations, changes in the weather, and poor circulation can all alter the shape and size of your foot.
Be sock wise. Choose socks that have no seams. Seams will rub against your skin and cause blisters.
Wash and inspect your feet and shoes daily. Give your feet a daily wash. Inspect your feet before putting on your shoes and once more when you take them off. If you are not flexible enough to see the base of your foot, use a magnifying hand mirror. Shake out your shoes before you put them on and make sure there is no debris that will rub against your feet. Although a tiny grain of sand might not be felt, it could lead to serious infection if it is not treated properly.
Trim toenails. Don't let your nails get long and overgrown. Trim them straight across, and, if necessary, file down the edges.
Use skin lotion for your feet. As a preventative, Flexitol Heel Balm can reduce the risk of infections and foot ulceration in diabetic patients keeping the skin optimally hydrated. Rub a thin coat of Flexitol Heel Balm on the top and bottom of your feet, but not between the toes. Excess moisture can also lead to fungal infections, so let the balm soak into your skin for a few minutes before putting on socks on covering up your feet.
Visit a podiatrist before and after your vacation. Fungal infections tend to happen a lot more when the weather is heated and increased in moisture. Your feet might also increase in calluses because you have switched to summer footwear. Do not try to remove corns, calluses, or warts on your own. Even over-the-counter products for removing corns and warts may cause burns or damage to your skin that cannot be repaired. Your podiatrist will help you manage minor infections and ensure that they do not lead to serious complications.
(1) (2) http://www.diabetes.org.uk/Documents/Reports/State-of-the-Nation-2012.pdf