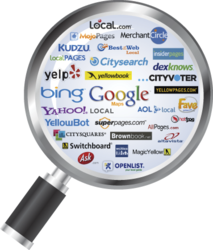 Our local search solutions help create a dominant presence on local search.
Hamilton, NJ (PRWEB) June 03, 2013
Due to an increased demand for online local business listings among small to medium sized companies, Upward SEO announces a comprehensive solution called Local Power Listings. The new service helps companies stand out from the crowd in local search results for their targeted geographic area. Companies can add pictures, descriptions and promotions to their local listings, helping them rise up in local search results and making them more appealing to potential customers. Local Power Listings is the only online reputation management system that lets businesses add these critical elements to their online directory listings through a centralized platform. The system also provides companies with advanced tracking and review monitoring features.
The Local Power Listings service provides a combined online reach of over 150 million visitors per month and helps companies reach customers on the latest platforms including online, mobile sites, and mobile apps. This comprehensive platform remains flexible, adding new local search partners on a monthly basis to improve local coverage.
"I'm really excited about this new offering for small and medium sized businesses focused on being found through local search results," says Upward SEO Chief Executive Officer Michael Fleischner. "We've been looking for an affordable way to service prospective customers who have smaller budgets but have the need of creating a dominant presence on local search. This solution provides the best of both worlds – it's comprehensive and affordable with three different service levels."
Local Power Listings provide a variety of benefits for those seeking an increased local presence online. Customers who use the listing service will appear in the largest number of local searches with guaranteed presence. The centralized management platform automatically adds missing listings, and it updates critical fields like name, address, phone number, and categories across our network. Company information can be changed anytime and it will update everywhere, creating a seamless process across multiple local listing platforms.
This online business service also provides customers the opportunity to enhance local listings through additional photos, descriptions, and promotions. The platform can also be used by local businesses to inform their customers about specials, new products, important announcements, changing hours, or anything else. The Local Power Listings service also provides businesses with the ability to track local search performance through full analytics. An advanced service level provides a local business with insight into which features of their listings drive the greatest interest, an ability to monitor online reviews, and data necessary for improving their service to others.
For more information about Local Power Listings, contact Upward SEO or visit our website for additional information.