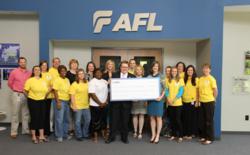 Associate giving for this year's campaign exceeded AFL's goal of $125,000
Spartanburg, SC (PRWEB) June 03, 2013
AFL, a leading international manufacturer of fiber optic cable, equipment and accessories, presented the United Way of the Piedmont with $145,000 May 28. The gift was a direct result of AFL's annual United Campaign in which associates learn about United Way's positive impact on local communities and become a part of that impact by giving back.
Associate giving for this year's three-week campaign exceeded AFL's goal of $125,000 and last year's grand total of $111,000, setting a record for AFL. Themed "Build it Up," the campaign was geared toward building on last year's roaring success, and did so with a 22 percent increase in participation and a 24 percent increase in overall associate giving.
"AFL aligns our community initiatives with United Way's focus areas – that of health, education and financial stability. We believe that in doing so we can make an even greater impact," said Corie Culp, AFL community relations manager. "Our associates made a substantial impact this year for our communities and we are extremely grateful for their thoughtfulness and efforts."
From perusing local nonprofit booths at the Agency Fair to dunking Jody Gallagher, CEO and President of AFL, in the dunk tank, associates were given the opportunity to learn about local community needs through a variety of fun and informative events. In addition, this year's campaign included a dollar-for-dollar match for new donors, which showcased AFL's commitment to giving back.
United Way is only one element of AFL's multifaceted Community Outreach Program. The program also includes grants, ACT projects, sponsorships, Take Root (a program to provide trees to communities), disaster relief and a yearly Week of Service. For additional information about AFL and the company's Community Outreach Program, visit http://www.AFLglobal.com.
About AFL
AFL provides industry-leading products and services to the electric utility, broadband, communications, OEM, enterprise, wireless and transit rail markets as well as the emerging markets of oil and gas, mining, nuclear, avionics, medical, renewable and intelligent grid. The company's diverse product portfolio includes fiber optic cable, transmission and substation accessories, outside plant equipment, connectors, fusion splicers, test equipment and training. AFL's service portfolio includes market-leading positions with the foremost communications companies supporting inside plant central office, EF&I, outside plant, enterprise and wireless areas.
Founded in 1984, AFL is proud to offer engineering expertise, exceptional products and reliable service that help our customers improve their critical and electrical infrastructure. AFL has operations in the U.S., Mexico, Europe, Asia and the South Pacific. The company is headquartered in Spartanburg, S.C., and is a wholly-owned subsidiary of Fujikura Ltd. of Japan. For more information, visit http://www.AFLglobal.com.