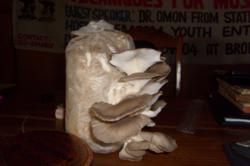 In the last decade, over 60% of Ghana's mushroom farmers went out of business due to spawn shortages and contamination. Bemcom's spawn lab will restore their way out of poverty.
Bernard Bemaph, Bemcom Training and Resource Centre, Ghana, West Africa
Perkins, OK (PRWEB) June 25, 2013
Bemcom Training and Resource Centre in Techiman, Brong Ahafo Region, trains oyster mushroom growers, most of them women. Bemcom buys spawn to make oyster mushroom production bags for farmers throughout northern and central Ghana. The farmers grow the mushrooms and sell them in their communities. Spawn, the mushroom seed material, is in short supply. As the largest supplier in the area, Bemcom is not able to meet the demand. Filling that need is close to becoming a reality.
Oyster mushroooms, which are highly susceptible to contamination, are the sole crop for the mushroom farmers. According to Bernard Bempah, Bemcom founder and director, in the last decade contamination wiped out 60% of Ghana's mushroom crop.
In 2011, through the support of ACDI/VOCA, Bemcom and the Williams' initiated a research project to grow shiitake mushrooms on logs. More research is needed, but Bempah and the Williams' believe that In the future Bemcom will be making shiitake spawn and training farmers to grow shiitakes as a second crop.
Mushrooms require cultured and carefully prepared spawn that is best produced in a laboratory. Sterile conditions, sterilization of the growing media and incubation are needed to make the highest quality, uncontaminated spawn. After five years of collaboration between Bemcom and Mushrooms in Ghana Project, the laboratory that can supply Ghana's mushroom farmers is within months of expanding economic opportunities for the country's more than 7,000 trained mushroom growers.
Dr. Sandra Williams of Lost Creek Mushroom Farm, is the director of Mushrooms in Ghana Project and president of the sponsoring Magical Child Foundation. She explained, "Mushroom farming is a proven means of economic development. The farmers are hardworking, willing to grow the mushrooms and wanting to expand their farms. But since 2002, they have been unable to reach their goals of economic stability because of the shortage of spawn."
At present, there is only one registered spawn production facility in Ghana, the Food Research Institute in Accra, which cannot supply the entire country. Buying the spawn available from the FRI, Bemcom receives about half the spawn required for its farmers be in full production. Bempah has explained, "Accra is a 12-hour trip from Techiman. After driving over rough roads under the hot sun, as many as a third of the spawn bags can be broken and spoiled."
"The need for spawn is at a critical level," Dr. Williams said. "For four years we have been building and equipping a spawn laboratory at Bemcom. With assistance from USAID agencies OICI and ACDI/VOCA my husband and I have been working as volunteers in Ghana, teaching mushroom production and preservation and helping to increase mushroom consumption and sales.
"For the spawn lab, Mushrooms in Ghana Project has supplied inoculation tools, spawn and mushroom cultures, a clean bench, a heating/cooling incubator, UV light, and a computer, projector and screen for training.
Making spawn in the quantity needed for Ghana's farmers required an autoclave and a larger sterile bench, which have now been provided by an NGO. Mushrooms in Ghana Project, supported primarily by Lost Creek Mushroom Farm shiitake log kit sales, is providing funds for flooring, wiring, plumbing and installation costs at Bemcom.
In 2012 the Williams' founded The Voice of the Mushroom Foundation to promote education about the health and medicinal benefits of mushrooms, and promote small-scale mushroom production and consumption worldwide.